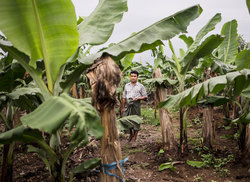 The Chinese companies that are planting bananas in Kachin State are not official (Photo: Myanmar Times)
Myanmar Times | 22 Jun 2018
Chinese banana plantations flourish as villagers lose their land in Kachin
Chan Thar
As residents in Kachin State flee from their homes due to fighting between the Tatmadaw (military) and the ethnic Kachin Independence Army (KIA), Chinese businessmen are planting tissue-culture bananas for export to their country.
Local people work the plantations for low wages to earn a living.
The fields stretch as far as the eye can see near the China-Myanmar border, which were a battleground in the past.
After leaving Myitkyina town and crossing Bala Min Htin bridge, you come to Waingmaw township and see fields covered with Chinese-owned banana plantations.
Land is being lost to the expanding banana fields, and it is increasingly difficulty to earn a living, the villagers said.
"Whenever I am hired to work in their fields, I think to myself that these are our lands and it would be great if we could get them back. Only then, will we have land to work on," said Daw Mor Li Sel, a 39-year-old Lisu ethnic woman from Law Sar village in Man Win village tract of Waingmaw.
Daw Mor Li Sel's village is located between Waingmaw and Chipwe, in Special Administrative Region (1), which is controlled by the New Democratic Army - Kachin (NDAK), a government militia group led by U Zakhung Ting Ying. The armed ethnic group leader founded the village in 2002, and it has 40 houses and a population of 150.
When it was founded, more than 150 acres out of 730 acres were used for farming by the villagers. In 2008, U Zakhung Ting Ying invited Chinese companies to plant tapioca on about 250 acres of land, which the locals weren't capable of carrying out due to a lack of resources. He gathered the villagers and told them that tapioca seeds will be given for free; they could plant as many seeds as they wanted, and the crop would be purchased at harvest.
However, things didn't turn out as expected, said 40-year-old Daw Ah Chi Mi of Law Sar. "[Tapioca] should be planted for commercial purposes. They said that they would buy them. But, after we planted them, they didn't buy them" she said.
The villagers all agreed when U Zakhung Ting Ying said they should switch from growing tapioca to growing bananas. He told them the fields that the locals did not work would be given to Chinese companies, and dams would be constructed for the villagers.
He also threatened to have the authorities arrest those who did not give up their land, so an agreement was reached, said Daw Ah Chi Mi.
Since 2010 Chinese banana plantations have dominated Waingmaw township. Although the plantations are abundant around the village, locals have yet to receive the promised benefits.
Vacant land is more and more scarce, so locals have to work at the banana plantations for K50,000 (US$36) per acre. Chinese banana plantation companies always say they pay for using the land of the farmers.
"They said the wages they give us are compensation for the use of the land, but it is pay for our labour. When the bananas are harvested, they take them," said Daw Ah Chi Mi.
Officials of the company said that tissue-culture bananas are grown on more than 10,000 acres near Law Sar by a joint venture between China's Zhen Xin Co. and Chang Yin Khu Development Co., which is locally owned.
When China started growing bananas using tissue-culture technology, the military and KIA were negotiating a ceasefire. The banana-growing technology was introduced in Kachin in 2006 as an alternative to growing opium poppies.
According to the state's Agriculture, Livestock and Irrigation Ministry, in Waingmaw alone, there are more than 27,000 acres of tissue-culture bananas being grown by Chinese and local companies, and there are more than 60,000 acres in the whole state.
Chinese companies use insecticides, weed killers and fertilisers on the bananas, and these are disposed of carelessly. This has led to the contamination of water in the area, resulting in the deaths of cattle and damage to the soil, according to a 2017 study by a Lisu civil society group.
Law Sar villagers said they suffer year-round from the smell of chemical fertilisers and weed killers.
"The smell of the soil is very bad. If the trucks that carry soil pass through the village, we suffer from its foul smell. Once the bananas are harvested, they use chemicals to boost the growth of young saplings. But we have no other place to go," said Daw Mor Li Sel.
Another difficulty that the villagers are facing daily is water. The Chinese growers are pumping water from the streams near Law Sar village, and they have also built water tanks for the plantations.
"We can no longer use the wells in our village because of the chemicals seeping into the soil. We cannot carry water from the hill; we have to rely on these wells. Every year, people suffer from diarrhoea in the rainy season," Daw Mor Li Sel said.
U Aung Zaw Myint, who is in charge of Chang Yin Khu Development, denied there are any health hazards from the chemicals they use in the banana plantations.
"The chemicals we use do not affect health. People are exaggerating," he said.
The son of U Zakhung Ting Ying is the head of the company.
U Aung Zaw Myint said Chang Yin Khu Development operates the banana plantations with the permission of township officials and has not illegally seized any land.
"We asked for documents showing that the lands we use are theirs, but they don't have any documents. We are working for development. The villagers threatened our workers with a knife in 2013, but we forgave them," he said.
U Naw Li, a state MP, asked state government officials in May which Chinese companies are allowed to operate banana plantations in the state and to take action against those operating without a permit.
The Kachin State Planning and Finance Minister told the parliament that there are no Chinese companies permitted to run banana plantations there. He added that there are no trucks loaded with bananas passing through the inspections gates daily.
There are more than 60,000 acres of banana plants only in Waingmaw township, said U Naw Li. "There are more than 100,000 acres of tissue-culture bananas across the state."
The banana trucks enter along Kan Pike Tee border route and there is still illicit trading although there are many customs and inspections gates, U Naw Li said.
All the Chinese companies that are planting bananas in Kachin State are not official, H La Aung, state Minister for Natural Resources and Environmental Conservation told The Myanmar Times.
There are difficulties to take action against Chinese companies as they are doing their business under the protection of the armed forces, he said.
"The public has been complaining about the banana plantation for long time. We cannot arrest them as they have armed forces," said H La Aung.
They inspected one Chinese banana plantation farm which is about 500 acres wide near Mai Na and San Ka village tracks of Waingmaw township. They raided that place with enough securities by showing the case during a new bridge opening ceremony near the villages. They arrested two Chinese citizens (one of them exceeded residence permit) and one Myanmar national, he said.
"The majority of plantation sites are in engagement zone (battle field). We can't go there without Tatmadaw's security; meaning we can't get there without the cooperation of armed forces. The State Government is trying to solve this by organising special committee regarding tissue-culture banana," said H La Aung.
U Naw Li said the banana plantations in Waingmaw township are causing tension between the Chinese companies and the ethnic groups in the area.
Because of expansion of Chinese banana plantation areas at abandoned villages, the refugees are afraid that they have no more place to return to once the fighting ends, Among the refugees who are worried about having no place to return to is Daw Ywal Gyi who is staying at Minar refugee camp in Waingmaw township.
Daw Ywal Gyi is from Gar Yar Yan Village, 28 miles from Waingmaw. She could not understand how the China tissue-culture banana plantations companies got around the village with its tight security.
"Even if we return to our fields, we need to register at Tatmadaw Terminal. We can't enter the village without registration card. How did the China companies enter? They have started planting near our village," she said.
China companies are renting the land from refugees for K100,000 an acre and they are telling refugee camp officials that if the lands are not rented, the government will establish an industrial zone there and take all the lands. Sein Nagar Company has planted 1000 acres of banana in Gar Yar Yan Village.
There are people who are acting as agents for the Chinese companies in the refugee camps and the jobless refugees have to rent out their lands for food, said U Naw Li.
"As the State is not peaceful, people cannot do business freely. They are jobless and so, when the land rent offer came, they grabbed it for food," he said.
The state government alone cannot take action against illegal plantations and protect the lands of the refugees. Armed forces like Tatmadaw and Border Troops need to cooperate, said H La Aung.
There are around 150,000 refugees in Kachin State and they need to leave their homes because of battles and have to worry about their lands because of illegal China banana plantation sites as well.