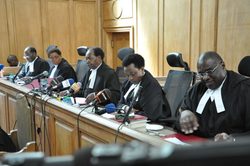 XNews | 13 June 2018
Over 3000 Karuturi workers to know their fate tomorrow as Court of Appeal embarks on hearing case against CFC Stanbic
The Court of Appeal will tomorrow start listening to an appeal case filed by Karuturi Limited against CFC Stanbic Bank and its receiver managers.
The appeal case is challenging a decision made by the High Court on 19th January 2018 allowing CFC Stanbic to auction Karuturi assets if the owners fail to clear Sh1.8 billion debts allegedly owed by the company to the South African based lender.
CFC Stanbic, who had already moved to advertise for the sale of Karuturi assets, were last week but one stopped from selling the firm's assets pending the hearing of the appeal on June 14, 2018. However, High Court Judge Justice Francis allowed the receivers to continue evaluating the Expression of Interests proposals from applicants but not sell the assets as earlier advertised. "…the process of evaluation of expression of interest that may have been commenced by the Defendants shall proceed but no sale of the assets shall be concluded until 14th June 2018, when the parties herein are due to appear before the court of Appeal in respect to the application under rule 5 (2) of the Court of Appeal Rules," read the court order issued by Justice Tuiyott.
However, it is the fate of over 3000 workers of the Naivasha based flower farm, Karuturi Limited that hangs on the balance says Mr. Samson Ounda, the workers representative.
"We are worried that CFC Stanbic wants to sell the farm and leave us jobless. The business community around the farm is also suffering. The school and hospital which were manager by Karuturi were run down by the receivers. We want the courts to consider our plight in their determination," said Ounda.
Recently the workers submitted written petition to the National Treasury, Ethics and Anti-corruption Commission, KRA, Directorate of Criminal Investigation and the Central Bank requesting the institutions to exercise their powers and apprehend CFC Stanbic Bank for the malpractice they committed during the receivership period.
"The receivers are not honest. They have cooked figure to show underperformance of the farm during receivership. They also claim to have thrown away flowers which we know very well it was sold. We just hope that the court will consider all the evidence submitted," Ounda added.​