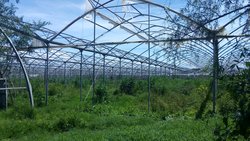 The ripple effect of the closure of the farm is massive
KBC | June 5, 2018
The ripple effect caused by closure of Sher Karuturi Flower Farm
Posted By: bethnyaga
A walk through the withering and dilapidated flower farm depicts the sad state of affairs at the Sher Karuturi Flower Farm.
The lives of more than 3,000 people came to a standstill when the Flower farm shut its doors in May 2015 after being placed under receivership over accrued debt.
Where a multibillion flower empire once stood now stands a vast weed-infested farm under the cover of dilapidated greenhouses along the Moi South Lake Road in Naivasha.
When it flourished, Karuturi captured global imaginations for flower lovers and heralded good financial tidings for Sher Agencies Ltd, and later Karuturi Limited.
Sher, as the company was referred to after its establishment in 1986, boasted of exporting millions of roses a year. The workers were also well remunerated as compared to other competitors. They even earned generous bonuses for working overtime.
Today, the sorry state of affairs is amplified miles away, in what, from a distance, resembles a veritable waste.
The Ripple Effect
According to the Kenya National Chamber of Commerce and Industry (KNCCI) chairman, Nakuru County chapter Kamau Njuguna, the government does not show enough support to businesses. He says the government has failed to support such business ventures leading to their collapse.
"Three years ago I made headlines when I tried to tell the government to take control of the situation,"Njuguna quips.
The ripple effect of the closure of the farm is massive. Kenya Power admitted to losing out financially as the largest flower farm could not pay their electricity bills, commercial banks as well could not recover loans from the already fallen farm, Kenyans who had leased out their land were not paid their dues either and worst of all, over 3,000 people lost their jobs, which led to others in the community losing their revenue stream as well.
Fernice Nyamanga who has lived in Kasarani Estate since 1978 says, "The people who used to promote my business after I retired from the flower farm do not do it anymore because they are now jobless, there is no money coming into this area anymore."
A spot check in Naivasha town revealed that many of the women who used to work in the farms have now turned to prostitution. Some of the women start this their business as early as 6pm in the evening.
Francis Ole Kishoian a former flower worker livid as he talks to us says, "Our women have turned to prostitution, not only in town but also in the estates. We know that they were pushed into this trade by the closure of Sher, they have families to fend for so this is what they have decided to."
"I worked for the Sher farm for 15 years and for a few months with no pay at all. Sheracco Sacco also sunk with our money. I am lucky because I had some savings which I used to open a tuck shop; some of my colleagues however have not had a lot of luck finding jobs to sustain them,"Kishoian says.
"The genesis of the closure in Karuturi farm is due to the widening gap between the government and the private sector" says KNCCI Chair.
"The government has distanced itself from investors, imposes taxes on everything from chemicals used in the plants and it never offers incentives like tax waivers to ease the burdenowners," says Njuguna.
KNCCI Chair is suggesting that to alleviate peoples suffering, the government should train their own farmers, using NYS idle land or parastatal land to mould the youth.
"We need to grow ourselves as Kenya.No university in Kenya is teaching on Floriculture. The Government needs to wake up," Njuguna stated.