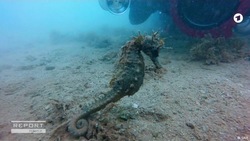 Screenshot of seahorse from German media report (SWR)
Deutsche Welle | 23 May 2018
Major grocery supplier to Germany accused of environmental crimes in Spain, report says
One of Aldi's fruit and vegetable suppliers has been accused of helping ruin an important lagoon, a media report has said. Germany's demand for cheap vegetables has been blamed for encouraging farmers to cut corners.
One of Europe's largest suppliers of fruit and vegetables is being investigated for alleged environmental crimes in Spain, according to an
exclusive report
by German public broadcaster ARD.
The company reportedly supplies Germany's largest supermarkets, including Rewe, Edeka, Lidl and Aldi Süd.
Details of the allegations
The public prosecutor's office in Murcia told ARD's "Report Mainz" that:
About 40 farmers, officials and agricultural companies are suspected of using illegal methods to pump water and purify it in unauthorized desalination plants.
One of those companies was allegedly G's Espana, which supplies major German grocery chains.
It allegedly used hidden pipes to dump highly concentrated nitrate-containing wastewater and other environmental toxins into the Mar Menor lagoon or soil.
The dumping caused serious damage to the flora and fauna in the lagoon.
The "serious crimes against the environment" are punishable with five years in prison.
Supermarkets hand responsibility to certification groups

Although Rewe did not respond, Edeka, Lidl and Aldi-Süd told the broadcaster they relied on environmental certification companies to ensure environmental regulations are followed. Aldi-Süd said it had initiated an ad hoc audit of the company and would investigate the certification checked. G's Espana itself did not respond.

Environmental damage: Mar Menor is the largest lagoon in Spain and has international environmental significance. Parts of the lake, including extensive salt flats, are protected at various levels. But in 2016 pollution levels bought the area close to ecological collapse. Environmental changes led to enormous changes in the ecosystems, with many important plant and fish species disappearing entirely.

The company: G's Espana is the Spanish subsidiary of the British G's Group. A cached version of the Spanish website, which was down at the time of writing, said they control 5,000 hectares (12,355 acres) of farmland in Spain and 12,500 hectares around the world. The group boasts of promoting sustainability throughout the supply chain and working in an ethical and responsible manner.

Germany to blame? Germany enjoys notoriously cheap groceries in its supermarkets and this has been blamed for placing pressures on farmers to cut their costs. Campaigners have pressured the German government to ensure hidden costs, such as filtering nitrates out of drinking water, are included in the final checkout price.