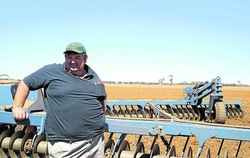 John Nicoletti's 2018 cropping program involves up to 80,000ha of crop, mainly cereals being planted, which could be negotiated into the sale.
The Land | 16 May 2018
Nicoletti farming business hits the market

by MOLLIE TRACEY and KEN WILSON
CROPPING giant of WA, John Nicoletti has decided to close the doors of his major farming enterprise by listing his entire portfolio for sale, with the hope of fetching between $75 million and $85m.
As WA's biggest grain grower, Mr Nicoletti's farming business includes more than 30 original properties throughout the eastern and northern wheatbelt.
The offering of 203,000 hectares consists 157,000ha of arable country of which 62,000ha is freehold and 95,000ha is leasehold.
According to Mr Nicoletti, the timing was right for his decision to sell his land holdings.
"It was always part of my strategic plan (to sell) as I got older," Mr Nicoletti said.
"And right now there's terrific interest from superannuation funds and investors in large parcels of relatively cheap land.
"I've got strong interest from Canada, the United Kingdom and Dubai and they want to come out now and have a look around.
"The important thing for them is obviously return on investment and I can show them the figures that historically have produced better than five or six per cent.
"It might be called dryland farming but there's plenty of productivity and profit from growing crops and running sheep."
Spanning across Merredin, Westonia, Bullfinch, Mukinbudin, Southern Cross and Daisy Downs at Mullewa, the properties feature an extensive range of infrastructure including more than 25 good quality houses, at least 12 shearing sheds, 15,000 tonnes of on-farm silo storage and numerous sheds.
Most of the properties have scheme water or otherwise have good quality dams, making most of the land suitable for mixed farming.
A full complement of modern plant and equipment includes 14 headers, 12 seeders, seven sprayers, eight prime movers, four speed tillers, 13 large tractors, seven small tractors and seven tele-handlers.
A flock of more than 50,000 Merino ewes plus followers is also included in the sale.
It's believed to be the largest semi-contigious cropping aggregation to be offered as a single parcel in Australia's history.
Mr Nicoletti said he was happy to now concentrate on his John Deere machinery dealership group, Ag Implements, which has branches in Merredin, Northam, Cunderdin, Mukinbudin, Quairading and Narembeen.
"We've built up a strong management team and we have great staff, including youngsters we're training up, so we're in good shape," he said.
"I'm really excited about this industry and its future and being associated with a company that is bringing world-class technology to farmers."
The aggregation was made available to the market on Monday, May 14 and the sale is being handled by CBRE's Danny Thomas.
Mr Thomas said that Mr Nicoletti's 2018 cropping program involved up to 80,000ha of crop, mainly cereals being planted, which could be negotiated into the sale.
Although a walk-in, walk-out deal of the entire portfolio is desired, Mr Thomas said he was willing to talk to anyone interested purchasing smaller portions of the offering.
The aggregation is offered as an expression of interest, closing Friday, June 29, 2018 at 4pm (AEST).