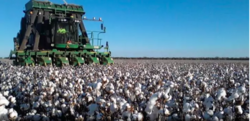 Merrowie Station, at Hillston, is one of three NSW properties being sold by Twynam Agricultural Group.
Global AgInvesting | 9 April 2018
Three NSW farms sold to US, Dutch investors for US$89 million
The Kahlbetzer family's Twynam Agricultural Group has sold three properties in Lachlan Valley in New South Wales to two overseas investors – MERS Global Investments and Optifarm for a total A$115 million (US$89 million).
The Netherlands-based Optifarm has acquired two of the three properties: Jemalong Station and the adjacent Jemalong Citrus. The Jemalong Station consists of 13,387 hectares, of which 2,384 hectares are irrigated via a 8,885 megaliter General Security Jemalong Irrigation License and a 3107Ml of groundwater entitlement, report Grain Central. The adjacent Jemalong Citrus consists of 361 hectares including a 215 hectare orchard with 170,000 orange trees growing citrus fruits for juicing.
This is the second land deal in Australia for Optifarm since August of last year when it acquired the 4,000 hectare Uri Park, a mixed-use and partially irrigated farming operation in the Riverina region of New South Wales. The company states that it has begun development of permanent crop production at Uri Park, and intends to pursue the same development at Jemalong, along with broadacre farming and livestock production. Both the Jemalong and Uri Park sites will be managed by Customised Farm Management, which incorporates technology advances into their operating methods, and Optifarm states that it plans to also make investments to modernize the existing irrigation systems in place across its New South Wales portfolio.
"Optifarm intends to allocate additional capital to both the Jemalong properties to ensure the associated water assets are moved to 'higher value crops' where possible," it said in a statement through its farm manager Customised Farm Management, reports AFR.
Meanwhile, MERS Global Investments has acquired the 32,730 hectare Merrowie property at Hillston through its MRA Merrowie vehicle. Of the total hectarage 9,906 hectares are irrigated, and the property includes a license for 6,689 Ml of groundwater.
Pivoting to Agtech
Twynham Agricultural Group was founded in the 1970s by John Kahlbetzer Sr. and is controlled by the Kahlbetzer family, which has accrued an ag portfolio including citrus, cattle, sheep, grain, and cotton operations, according to The Land.
Over the past 10 years the company has been actively divesting its holdings, including selling its feedlot with a 4,000 head capacity at The Mount in 2015, as it turns its attention toward agtech.
In September 2016 StartupAUS, Australia's top startup body, released Powering Growth: Realizing the Potential of AgTech for Australia, a report commissioned by StartupAUS, KPMG, Commonwealth Bank, and the Queensland government that determines that agtech is a critical factor if Australia's agricultural sector will reach its goal of becoming a $100 billion industry by 2030. However, the report goes on to state that there is a dire lack of investment, national strategy, and domestic opportunity.
"We have an extremely valuable opportunity here to develop technologies that make a real difference to the economy's bottom line, while also helping rural Australia realise [sic] the economic benefits of the digital technology revolution," said Alex McCauley, chief executive with StartupAUS, at the time.
Twynham has been responding.
Last year Twynham partnered with AgriProtein, a South Africa-based nutrient developer, for the establishment of a "fly farm" in the Sydney region that would supply insect protein for swine, poultry, fish, and pet foods.
In December of last year, AgriProtein announced it had raised $17.5 million in funding from investors across Europe, Asia, and North America. The round brought the company's funding to $30 million since its launch and valued the company at $117 million, making it one of the best positioned companies in the insect protein category in the world, reports AgFunder.
First Under New FIRB Rules
The deals to acquire the three Lachlan Valley properties were the first to happen after Australia's federal government began imposing stricter foreign investment regulations in association with agricultural and electricity assets.
New rules now in effect by Australia's Foreign Investment Review Board (FIRB) state that any agricultural property with a valuation exceeding $15 million must be nationally advertised through a marketing campaign lasting 30 days to ensure equal opportunities for domestic buyers.
Through this process, the selling agents, Gary Johnston with Johnston Rural Group Forbes and Bruce Gunning of Ray White Rural International Sydney, received more than 50 inquiries, and had inspections conducted by more than 20 interested parties.
"Within hours of advertising the properties through national media we had an inquiry from Hong Kong but also there had been strong interest from local and other Australian investors," Gunning told the Weekly Times Now.
"In all cases, the accepted offer was the highest offer received for the land and water components of the respective properties," Twynam said.
-Lynda Kiernan