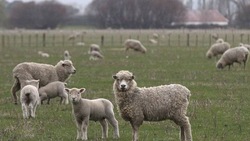 A back-up bidder has been accepted for Jericho Station sheep and beef farm after a foreign buyer withdrew. (Photo: NZ Herald)
New Zealand Herald | 10 April 2018
Landcorp goes with back-up offer in Jericho Station sale after Chinese buyer withdraws

By Paul McBeth
Landcorp Farming, the state-owned farmer trading as Pāmu Farms of New Zealand, has gone with a back-up bidder for its Jericho Station sheep and beef farm in Fiordland after the preferred foreign buyer withdrew.
Wellington-based Landcorp expects the new purchaser will complete the transaction in early June, spokesman Simon King said in an emailed statement.
Southland farmer Ed Pinckney was pipped by an $8.7 million offer from Chinese buyer Qianlong Farms when the 1,400-hectare farm was put to market in late 2016.
"Pamu has been advised that the purchaser of Jericho farm has withdrawn their application from the Overseas Investment Office (OIO) and is therefore unable to complete the purchase of the farm," King said.
"As such we have proceeded to finalise the sale and purchase of the farm with the party that has made an unconditional back-up offer, which does not require OIO approval."
The state-owned farmer last month reported an underlying loss of $6m in the six months ended December 31 as a wet spring followed by drought weighed on milk production and increased the need to buy extra feed.
Landcorp is New Zealand's biggest corporate farmer, managing 140 properties with its property plant and equipment valued at $1.29 billion as at June 30 last year.
Landcorp typically recycles capital through buying and selling properties to maintain the right balance of land to pursue its long-term strategies, and sold $20.1m of property in the 2017 financial year, leaving it with $59.1m of assets held for sale at the June 30 balance date.
King said the SOE has no farms currently for sale.