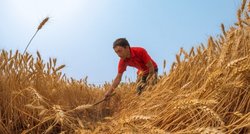 The Central Asia region has become a hot investment destination for Chinese agricultural firms, such as Huangfanqu Farm in Tajikistan.
Xinhua | 20 March 2018
Chinese agricultural firms expand along Belt and Road
by Xinhua writers Li Binian and Liu Jinhui

ZHENGZHOU, March 20 (Xinhua) -- Despite his reluctance to leave his two-month-old son, Chinese farmer Duan Lin flew to Tajikistan Friday.

It was the fourth time that Duan, one of 16 Chinese managers on a 1,670-hectare Tajik farm, had flown to the Central Asian country after the Chinese Lunar New Year.

Before being sent to Tajikistan in 2015 as a technical adviser, Duan, 30, worked as an agricultural technology promotion employee at Huangfanqu Farm, where his grandfather and father had worked.

The Huangfanqu Farm was established in 1951 based on a large parcel of land in Xihua and Fugou counties in China's central Henan Province. The land was flooded by the Yellow River, China's second longest, in the 1930s due to war and became unsuitable for farming because of high soil salinity.

After three generations of efforts, the 6,670 hectares of land became arable again. In recent years, the farm started to seek expansion opportunities along the ancient Silk Road trade routes.

"The state-owned farm could hardly support its workforce of 30,000 people. New growth drivers were urgently needed," said Zhai Jinzhong, director of the farm's overseas investment department.

About 10 years ago, the farm's officials visited countries including Namibia, Uganda, Cambodia and Myanmar to seek potential investment opportunities, said Zhai.

In 2013, the same year China proposed the Belt and Road Initiative, the farm established subsidiaries in Tajikistan and Ukraine. Now the farm grows wheat, corn and cotton in Tajikistan and raises cows in Ukraine.

In Tajikistan, the farm has invested more than 200 million yuan (31.6 million U.S. dollars) in improving infrastructure and building cotton processing plants. As a result, its average output of cotton reached 3.5 tonnes per hectare, 50 percent higher than local levels.

The farm in Tajikistan has achieved full mechanization and two harvests of corn and wheat per year, a shift from the country's "one harvest per year" tradition.

"When Chinese agriculture goes global, it is not just renting land. It is quite comprehensive, including exchanges in trade and technology," said Han Yijun, a professor with China Agricultural University.

As the Belt and Road Initiative pushes ahead, China is encouraging its agricultural firms to expand overseas and promote agricultural trade with countries and regions along the Silk Road Economic Belt and the 21st-Century Maritime Silk Road.

Many companies and agricultural research institutes have answered the call. The Chinese Academy of Agricultural Sciences has introduced 61 agricultural products and technologies to countries along the Belt and Road.

Yangling Agriculture Hi-Tech Industrial Zone, a national-level high-tech development zone in Shaanxi Province, has established modern agricultural demonstration parks in Kazakhstan and Kyrgyzstan and signed agreements with over 20 countries to deepen agricultural cooperation.

"When we first came here, there were only two Chinese agricultural companies in Tajikistan and now there are at least five. The Central Asia region has become a hot investment destination for Chinese agricultural firms," said Duan.

"As more countries recognize the Belt and Road Initiative, I believe more Chinese agricultural firms will go out and promote agricultural technology to benefit countries and regions along the Belt and Road," said Gao Fei, a professor at China Foreign Affairs University.