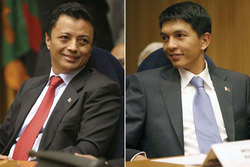 The principal contenders in 2009, former president Marc Ravalomanana and arch-rival Andry Rajoelina, an ex-mayor of Antananarivo and the Island's military-backed ruler from 2009 to 2013, are set for a re-match.
East African | 13 March 2018
Madagascar: Rogue Mayors, Gangster Politics
By Wachira Maina
In southern Africa, Madagascar, still chafing from a major broil in 2009, is set to have a presidential election in November.
The principal contenders in 2009, former president Marc Ravalomanana and arch-rival Andry Rajoelina, an ex-mayor of Antananarivo and the Island's military-backed ruler from 2009 to 2013, are set for a re-match.
It was Rajoelina who forced Ravalomanana out in protests in which more than 100 people died. Trouble began in 2008 when a youthful Rajoelina was elected mayor of Antananarivo and openly challenged president Ravalomanana's policies, among them the controversial and unpopular 99-year lease for 1,300,000 hectares (13,000 km2) - half of Madagascar's arable land - that he had signed with South Korean multinational, Daewoo.
Daewoo's plan was to use the land to produce corn and palm oil for export to South Korea on a promise to create 45,000 jobs for locals.
In the ensuing protests, Mr Ravalomanana shut down Mr Rajoelina's TV station whose supporters retaliated by burning down two state-owned TV stations and attacking a third owned by Mr Ravalomanana. A civil crisis soon morphed into a military crisis.
The army, incensed that Mr Ravalomanana had raised police salaries but not theirs, sided with Rajaoelina who then seized government as head of the High Transition Authority, HAT. Ravalomanana fled to South Africa.
In 2010, Rajoelina made a new constitution lowering from 40 to 30 years the age eligibility for president. That meant that he, then 36, could run if elections were called. The crisis deepened and would not yield to regional mediation.
In 2013, when elections fell due, SADC's diplomatic pressure and a judgment from the election court knocked out the big three, Didier Ratsiraka, Marc Ravalomanana and Andry Rajoelina, from the election. Newcomer Hery Rajaonarimampianina, an ally of Mr Rajoelina, won the election, defeating Jean-Louis Robinson, an ally of Mr Ravalomanana.
Since then Madagascar has enjoyed relative calm, even though it has suffered a series of natural disasters.
Mr Rajaonarimampianina wants to run again and hopes to ban both Ravalomanana and Rajoelina from the elections. He thinks he can invoke article 25(4) of the African Charter on Democracy, Elections and Governance against Rajoelina.
That article bars "perpetrators of unconstitutional change of government" from both elections and high office. Mr Ravalomanana, he believes, is easily knocked out by his in-absentia conviction for the fatal shooting of protestors by presidential guards in 2009.
The Institute for Security Studies, a South African NGO, thinks neither argument is sound. In the past, the African Union has read article 25(4) rather loosely.
Abdel Fattah al-Sisi and Mauritania's Mohamed Ould Abdel Aziz are both coup-makers but the AU was mum as they recast themselves as civilians.
Rajaonarimampianina's self-serving moves are further curdling an already sour political environment. He, too, has had difficulties of his own.
Impeached by parliament two years into his term, he was lucky to be reprieved by the constitutional court.
The prospects for a peaceful election are poor. Elections are ever a time of crisis in Madagascar. The 2009 crisis reprised a 2001 crisis that pitted Ravalomanana, ironically then mayor of Antananarivo against Ratsiraka.
Ratsiraka disputed Ravalomanana's first round win and tried to force a run-off that Ravalomanana boycotted. A chaotic standoff followed and only an order of recount by the constitutional court saved the Island from breakdown. The recount gave victory to Ravalomanana and Ratsiraka fled to France.
He was then indicted and convicted in absentia for stealing from the Central Bank, setting a precedent that Rajoelina would use to convict Ravalomanana for five years when he, too, fled Madagascar after the 2009 crisis.
There is complex diplomacy at play too. SADC is playing a more visible role but member states do not always agree, which allows the protagonists to blow hot and cold.
France dislikes Mr Ravalomanana whose policies they saw as unfairly targeted at Madagascar's large French business class.
He also took Madagascar into SADC and closer to the USA, eroding French influence. Not surprisingly, the first two things that the Francophile Rajoelina did in 2009 was cancel the Daewoo contract and reverse Ravalomanana's decision on English as Madagascar's third language.