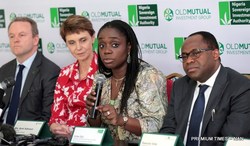 Launch of the UFF-NAIC Agriculture Fund, August 2017.
Economic Confidential | 12 March 2018
UFF-NAIC Agriculture Fund acquires integrated farm
The UFF-NAIC Agriculture Fund ("The Fund") has announced the acquisition of a fully integrated farm located in Panda, Nasarawa State, a region recognized for its superior soil types, access to reliable irrigation water and history of consistent productivity.
The Fund, jointly owned by the Nigeria Sovereign Investment Authority ("NSIA" or "the Authority") and UFF Agri Investment, is investing in a farm which comprises a broad acreage of Maize and Soya beans farms integrated into a system of feed mills and storage silos. The additional capital will be deployed towards expanding the farm's existing infrastructure, increasing installed capacity and enhancing the overall quality and quantity of output.
With this investment, the Fund will acquire and develop a 3,500 hectarages of land, of which 2,300 hectres are arable. The capital injection will be used to construct and install state of the art irrigation infrastructure, water reservoirs, grain storage and processing facilities. Also, the farming operations will be expanded to serve as input sources to the processing plant.
By modernizing the farm's operations and backward integrating, it is expected that crop yield will improve significantly and a two season (wet and dry season) farming will be achieved going forward. The expanded infrastructure is projected to increase the mills output tonnage by 60% while the combination of a centre-pivot irrigation system and surface drip lines will be deployed to increase water application across the farm.
NSIA and UFF's interest in the agriculture sector in Nigeria is underpinned by a shared vision of the significant socio-economic opportunities that exist. The investment is expected to promote income-generating opportunities for small holder famers under an out-grower scheme and related services. Overall the investment is expected to stimulate economic activities that will lead to the creation of jobs and improvements in quality of life.
Commenting on the investment, Mr. Uche Orji, Managing Director and Chief Executive Officer NSIA said "Agriculture is Nigeria's largest source of employment and remains a key focus area for the NSIA given its potential to contribute towards stimulating the economy. The UFF-NAIC Agriculture Fund is seeking to enhance the sector by attracting capital and modern technology to critical aspects of the value chain which is expected to stimulate production and the gamut of related economic activities. This modest investment therefore represents a prudently structured entry for the Fund into the domestic agriculture sector, which we believe will prove lucrative and transformational for stakeholders and the sector at large".
Speaking about the investment, UFF Joint Managing Director, Erwin Bouland, concludes "The investment in the farm in Nasarawa provides the first co-investment opportunity in Nigeria. The asset is complementary to existing portfolio holdings in that it offers geographic, climatic and farming type diversification. The lease model, coupled with the water security provided by this investment, fits with our objectives of reduced risk and consistent income provision for our institutional client base. UFF leverage highly productive assets by introducing investment in technology that creates exciting long-term opportunities for the Fund."