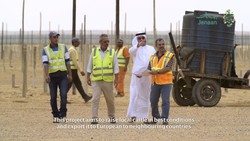 Oxford Business Group | 28 Feb 2018
Investment in sustainable farming and new technology supports Abu Dhabi's efforts to boost local agricultural production

Abu Dhabi is looking to position itself as a key contributor to the UAE's food security drive, with the national government announcing plans to boost agricultural output by 60% by 2051.
At the annual Global Forum for Innovations in Agriculture (GFIA), held in Abu Dhabi in February, Thani Ahmed Al Zeyoudi, the minister of climate change and environment for the UAE, said that despite being located in the middle of the world's most arid region, innovation and investment could help Abu Dhabi and the UAE meet food security challenges.
"There is the potential for innovative water-saving technologies, hydroponics and high-tech agriculture, amongst many technologies, to be deployed here to great success," he said.
The push comes amid increasing pressure on food demand in the region. Abu Dhabi's population of around 2.9m has almost doubled since 2006, while a report released last year by consultancy firm Alpen Capital estimated that food consumption across the UAE as a whole would increase by an average annual rate of 4.4% between 2016 and 2021.
Collaboration deal to boost agricultural practices and technology
Efforts to improve agricultural production were boosted after the Abu Dhabi Farmers' Services Centre (ADFSC) and the Sumitomo Mitsui Banking Corporation (SMBC) of Japan brokered an agreement during the GFIA summit aimed at supporting the transfer of knowledge and technology to the agricultural sector, while also opening opportunities for foreign investment.
Under the agreement, the ADFSC and the SMBC will cooperate in promoting protected agriculture and post-harvest techniques, transitioning to modern agriculture practices, and ensuring the sustainability of water and soil resources.
Nasser Mohamed Al Junaibi, acting CEO of the ADFSC, said the agreement would help facilitate the government's plans to boost agricultural production and support diversification of the economy.
Innovative agricultural techniques key to expanding production
Central to the success of Abu Dhabi's plan to increase agricultural production is the adoption of sustainable farming and water-conservation techniques, given the emirate's arid climate and scarcity of available resources.
The government has led efforts to reduce water consumption, introducing tariffs in 2016 to encourage more efficient desalinated water use and strengthening laws concerning the illegal use of groundwater, a development that requires farmers to install water meters.
An area seen as key to improving sustainability in this regard is hydroponic technology, a technique that uses a nutrient-rich solution, rather than soil, to grow crops.
The approach has been found to be up to 70% more water efficient than traditional farming methods and often allows for longer harvesting seasons, with the number of hydroponic greenhouses in the UAE increasing from 50 in 2009 to 1000 by the end of 2016.
Both the national and federal government have sought to encourage the expansion of hydroponics. Last November agri-business start-up Pure Harvest Smart Farms secured a historic $4.5bn seed investment to help fund the construction of a 3.3-ha farm with a fully climate-controlled greenhouse facility in Nahel, Abu Dhabi.
Pure Harvest's financiers include a federal government-backed fund, its technology partners and a group of international angel investors, in addition to Abu Dhabi private-equity and venture-capital firm Shorooq Investments, which invested $1.1m in the company in 2016.
Crops grown at the new facility, which is expected to be completed by mid-2018, will include tomatoes, capsicums, courgettes, aubergines and strawberries, and the firm has said it intends to supply local retailers, airlines and hospitality distributors, according to local media reports.
However, while significant efforts are being made to increase domestic output, the cost of such practices could hinder progress. Prices of locally grown products are likely to be higher than similar imports due to the significant input costs associated with production, which could in turn affect the consumption and longevity of local products in the market.
Global supply chain investments support livestock production
Another way in which the authorities, in partnership with the private sector, have worked to support local agriculture is by making strategic international investments in the global supply chain.
On top of supporting domestic production, such moves provide local companies with the opportunity to invest in the agricultural supply chain, further boosting trade and food security efforts.
With the government policy of expanding animal husbandry in Abu Dhabi leading to a steady rise in livestock numbers – there are now some 3.5m animals in the emirate and a further 1.5m in the rest of the UAE – fodder provision is becoming an increasingly active segment. However, given the high level of desertification in Abu Dhabi and significant water requirements for fodder production, many local firms are looking abroad.
One such leader in the area is Abu Dhabi-based Jenaan Investment, which supplies farmers in the emirate with hay and forage for livestock. The company has extensive overseas holdings in countries across Africa, Europe, the Middle East and the US, and late last year created a joint venture with the government of Sudan to farm 10,000 ha of land in the country, producing 230,000 tonnes of fodder for import to the UAE for local agricultural and re-export purposes.