Finance Apprise| 26 February 2018
China started to buy aggressively agriculture land abroad
by Viliyana Filipova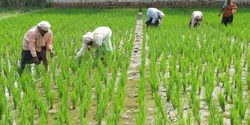 China started to buy aggressively agriculture land abroad and already directed interest to the French wheat. The population of China is one fifth of the world's, and arable lands are less than 10% of the country's territory. At the same time, Beijing is struggling with chronic environmental pollution, excessive use of fertilizers, mass urbanization, and climate change to further shrink farmland and productivity.
The growing middle class has greatly increased meat consumption, which is a drastic change in feeding habits, and has forced Beijing to import more soybean and corn for livestock feed.
In this context, the Chinese investments in agriculture abroad are sharply jumping: adding agricultural activities to a total of 94 billion USD from 2010, nearly half of them in the past two years. And while some countries prohibit the acquisition of lands by foreign investors, the Asian giant is targeting many others, particularly in Southeast Asia, Latin America and Africa.
The state and private Chinese companies in the agricultural sector invest in cereals, soybeans, orchards and livestock breeding in Argentina, Chile, Brazil, Mozambique, Nigeria, Zimbabwe, Cambodia and Laos. Already in 2012, the studies have shown that Chinese projects cover 9 million hectares of land in developing countries.
For several years, however, Chinese attention seems to be targeting Australia, the United States and Europe.
In Australia, the largest ranch in the world passed in Chinese hands in 2016, acquired by the real estate company Shanghai CRED, merged with a local mining group. At present, the joint venture S. Kidman & Co owns 185,000 head of livestock and controls 2.5% of agricultural land in the country.
In 2012, Canberra gives the green light for the sale of the largest Australian cotton plantation to a Chinese investor.
In New Zealand, Chinese companies are buying dozens of milk and dairy farms despite local producers' displeasure.
In 2013 rumors that the granary of Europe, Ukraine, will lease 3 million hectares of agricultural land to a Chinese company, caused turbulent reactions, and then were disproved by Kiev.
In France, Chinese billionaires are buying more and more vines, and the authorities learned lately about the acquisition of 1,700 hectares of cereal crops in central France thanks to clever attorney's tricks.
Last week, however, President Emmanuel Macron announced the imminent introduction of a tougher regulation for the purchase of farmland by foreigners in France.