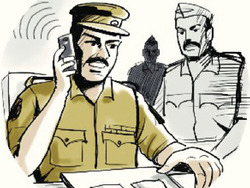 Times of India | 23 February 2018
Businessman Karuturi booked for sexually harassing spa staffer
Rajiv Kalkod | TNN
BENGALURU: City-based businessman Sai Ramakrishna Karuturi has been booked for allegedly sexually harassing a 23-year-old woman staffer of a spa centre in Sadashivanagar, central Bengaluru, and abusing policemen who rushed to her help.
Police said the spa staffer called the control room in the evening, saying a customer was forcing her to have a physical relationship with him.
"I've been working in the spa since January and Ramakrishna, a Sadashivanagar resident, is one of our permanent customers. On February 19, he arrived at 6pm. He had registered for a massage package for Rs 11,800. Accordingly, we directed our therapists to massage Ramakrishna," the complainant said. "In no time, Ramakrishna came out of the massage room and shouted at me saying he doesn't like these types of massages. When I asked him why, Ramakrishna directly requested me for sex."
The woman said he went on to threaten her.
'He threatened to break my legs'
I made my best effort to convince Ramakrishna, saying this is a family spa and no illegal activities are carried out here. But he abused me and threatened me, saying he would break my legs and inform my parents that I was running a sex racket. He threatened to hand me over to police, saying the punishment for flesh trade is seven years of imprisonment," she said. "Left with no choice, I went outside and called the police control room."
A Pink Hoysala pulled up soon. Ramakrishna then turned his anger on the policemen. "Based on the woman's statement, we asked him to calm down and come to the police station. He shouted at us, saying he would kick us and throw us out," a policeman said.
Later, senior police officials rushed to the spot and took the accused to the police station. "We've not arrested the accused. We will summon him for questioning soon. He has been booked under Indian Penal Code sections 354 (A) (physical contact and advances involving unwelcome and explicit sexual overtures) and 506 (criminal intimidation) in connection with the woman's complaint," a police officer said.