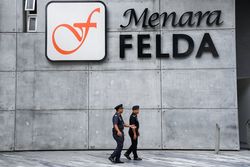 Felda chairman Shahrir Abdul Samad had said they had acted as intermediary for the Malaysian government in the acquisition of EHP. Photo: The Malaysian Insight file
Felda's investment in Indonesian oil palm planter PT Eagle High Plantations Tbk (EHP) is a bust said an oil palm watchdog.
International Palm Oil Monitor (IPOM) said a due diligence report prepared in relation to EHP's acquisition by KPMG and sighted by IPOM clearly detailed numerous concerns and improprieties.
"Among others, cash flow problems, inflated acquisition price, non-compliance with laws and regulations, excessive borrowings and excessive amounts due for repayment to the banks and tax evasion.
"The report also detailed intercompany interest free advances amounting to US$26 million (RM101.4 million) – the repayment of which were not forthcoming according to the Management of Eagle High," it said in a statement.
It's been slightly more than a year since the controversial purchase of EHP by Felda from Indonesian tycoon Peter Sondakh's Rajawali Group.
Felda, via FIC Properties Sdn Bhd acquired 37% of the shares of Eagle High for approximately US$500 million, paying approximately IDR580 (RM0.17) per share, at an extremely high premium of 95% to its closing share price at the point of acquisition.
IPOM said the deal was slammed by critics and experts due to it being overpriced and also due to the state of affairs within EHP.
However, the deal went through. Government funds were used to finance the deal which many saw as a bailout for Peter Sondakh, an Indonesian businessman with strong political ties in Malaysia.
"Slightly more than a year later, Eagle High's share price trades at a measly IDR204 per share, less than half what Felda paid.
"This means Felda is sitting on a paper loss of approximately US$300 million. Additionally, Eagle High's market capitalisation is just below US$420 million, which means Felda's 37% is now valued at just US$155.4 million, less than one-third what it paid."
It was reported in August last year Felda chairman Shahrir Abdul Samad had said it had acted as intermediary for the Malaysian government in the acquisition of EHP.
He had said Felda was selected because of its expertise in managing oil palm plantations.
Shahrir had said Felda was also looking into the possibilities of venturing into the downstream business in Indonesia through EHP.
Felda, through Felda Investment Corporation, concluded the acquisition of a 37% stake in EHP from Rajawali Group in a deal worth RM2.26 billion in April.
Additionally, IPOM said EHP has been recording losses for the past few years.
It added in April 2017, a regulation was passed stating the European Union (EU) will ensure palm oil imported into the EU comes from sustainable sources and to only import sustainable palm oil after 2020.
"This does not bode well for Eagle High, whose unsustainable palm oil practices as well as its lack of RSPO and ISPO certifications have been widely documented.
"Given this, it is unlikely Eagle High's revenues will improve in the coming years. It is more likely to decline once the European Union regulation takes effect."
IPOM founded in 2017 is a news portal covering issues on palm oil and plantation relating to good governance, sustainability and community.
Established as a info hub, IPOM aims to provide interested parties about the industry and promote open and informed discussion between stakeholders.