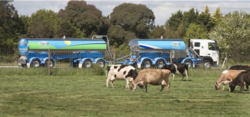 Rural Life | 19 February 2018

Fonterra owners' unrest grows on China foray
Frustration and anger is building among Fonterra's farmer-owners as a second mega-million dollar China investment by New Zealand's biggest company threatens to hit the rocks and erode their future earnings.

Reports of anxious and frustrated phone calls and emails circulating Fonterra's shareholder base about the co-operative's deteriorating $756 million investment in Chinese infant food company Beingmate have been acknowledged by Fonterra Shareholders' Council chairman Duncan Coull.
He said national shareholder representatives - elected by farmer-shareholders - had been contacted "across the councillor base".
"Not huge volumes. There's some concern and frustration."
But an influential shareholder said he was referring many calls and approaches to the council, which is funded by Fonterra headquarters.
Also reportedly worrying Fonterra's owners is its $800m investment in establishing dairy farms in China.
The farms yielded just $1m in earnings before interest and tax in the 2017 financial year, despite a $38m subsidy of their operations by Fonterra's China ingredients division.
"They're questioning the capability of the management and the board. They're questioning Fonterra's overseas investment strategy - it's not putting money in their pockets. They're frustrated. It's building," said the shareholder who spoke under condition of anonymity.
Another major shareholder said there was a lot of questioning in the shareholder base about Fonterra's management strategy, the quality of investment decisions and post-monitoring of investments, and whether the overseas investment strategy was working.
"Even after three years there are no specifics (given on Beingmate). When we ask for figures we get fudged answers and slides about 'the strategy'."
Fonterra's balance sheet would withstand the potential $1 billion-plus loss in China but its farmer-shareholders would be "paying for years and years" in lost earnings, said a source close to the situation.
Asked if the Fonterra Shareholder Council, as the owners' representative, was concerned about the China investment, Coull said the council had yet to meet this year. It would meet in Auckland this week and China was on the agenda.
He said shareholder response to the China situation was "a little premature".
"We're talking them through the situation. We're waiting patiently until the (Beingmate) annual result. We have no figures yet."
Fonterra, which has dividend-paying, non-voting units on the sharemarket, bought an 18.8% stake in Beingmate in 2015.
Beingmate's financial performance had started sliding a short time before, according to financial and news reports.
In September last year Beingmate's continuing poor performance saw the investment value cut to $615m on Fonterra's books compared with a market value of just under $400m.
Last month Beingmate said its expected loss for the latest financial year would be far bigger than forecast. That result is due next week. Fonterra's interim result is due late next month.
Fonterra's first investment in China was in the milk processor Sanlu in 2005.
Fonterra, formed in 2001 from a government-enabled industry merger which entitled it to 96% of the country's milk at the time, was to be, according to its dairy leader architects, a national champion for the New Zealand economy.
Four years later, Sanlu was deeply implicated in China's infant formula melamine-adding scandal. The company was prosecuted and failed, and Fonterra shareholders lost their investment.