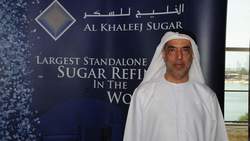 Jamal Al Ghurair, a member of one of Dubai's richest families, is investing in a sugar beet processing plant in Egypt as a global glut squeezes profits for his cane refining business.
Reuters | 3 February 2018
Dubai's Al Khaleej in $1 bln Egypt beet sugar mill deal
By Maha El Dahan
DUBAI, Feb 4 (Reuters) - Dubai's Al Khaleej Sugar Refinery has agreed to build a major agro-industrial complex to produce beet sugar under a deal signed with the Egyptian government, the world's largest port-based sugar refinery said on Sunday.
The project, named Al Canal Sugar, will be located only about 200 km (125 miles) from its market, Jamal al-Ghurair, managing director of the refinery, told an industry conference in Dubai.
Investment Minister Sahar Nasr said the project, with a cost of around $1 billion, would produce 900,000 tonnes of sugar annually, filling a supply gap in the market and making Egypt self-sufficient in sugar.
Ghurair said the global sugar market was oversupplied and that sugar margins had to improve by moving production closer to markets.
The key financial partner for Al Canal Sugar, located in Minya, is Al Ahly Capital Holding, the project's chief executive, Islam Salem, told the conference. Al Ahly is the private equity arm of the National Bank of Egypt.
"The mill is expected to start production in mid-2020 with full capacity reached in February 2021," Salem said.
The project will extend over 77,000 hectares (190,000 acres) and be farmed with wheat and beet in winter, and corn in summer.
The will have a beet sugar production capacity of 750,000 tonnes during the beet season which runs from February until June, with potential to go up to 900,000 tonnes.
"That will make us the largest globally with a daily production capacity of 36,000 tonnes," Salem said.
The facility will also have the capacity to refine raw sugar, up to 900,000 tonnes, in the off-beet season.
Egypt expects to produce about 1 million tonnes of sugar from cane this season, which runs from January through May.
Egypt also produces about 1.3 million tonnes of sugar from sugar beet each year and consumes about 3 million tonnes annually.
It meets its supply shortfall with a mix of private and public sector imports.
Nasr said Egypt also hoped to eventually export sugar to African markets.
The Minya agricultural land for the project was obtained under a 60 year long term lease deal while Al Ghurair is the major investor in the project.
--
Bloomberg | 4 February 2018
By Isis Almeida

Jamal Al Ghurair, a member of one of Dubai's richest families, is investing in a sugar beet processing plant in Egypt as a global glut squeezes profits for his cane refining business.
Companies in the Jamal Al Ghurair group are investing in the factory located about 200 kilometers (124 miles) from Cairo, he told the Dubai Sugar Conference Sunday. The European Union is flooding the world market with white sugar, reducing the premium the refined variety commands over raws, an important measure of refining profits.
Raw sugar prices have fallen more than 30 percent in the past year as supplies are forecast to outpace demand this season and the next. Brazil, the world's largest sugar producer, uses cane to process into raw sweetener, which later has to be refined, adding to costs. The European Union mostly uses beets, which can be directly processed into white sugar.
'Paradigm Shift'

"The sugar industry in the world is suffering a lot this year from oversupply, from a paradigm shift from cane to beet," said Al Ghurair, who runs Al Khaleej Sugar, owner of the world's largest port-based sugar refinery. Al Ghurair is investing for that change, he said.
The Egyptian government and Al Ghurair companies signed a $1 billion farm and sugar deal, the nation's ministers of investment, agriculture and the public sector said on Jan. 22. Production from the factory would help bridge a large gap between production and consumption in the North African nation.
The project includes a beet plant with capacity to produce about 750,000 tons of white sugar a year, an option for refining capacity of 900,000 tons and access to agricultural land, Islam Salem, chief executive officer of Canal Sugar, the Egyptian arm of Al Ghurair companies, said Sunday in an interview in Dubai.
The partners plan to grow 2.5 million tons of sugar beet, about 200,000 tons of wheat and 300,000 tons of corn a year, Salem said. Al Ghurair companies will hold an initial stake of 33 percent in the project, rising to 51 percent upon completion in three years, according to the Egyptian government.
Change Needed
"Time has come when we have realized that the sugar market has to change from being produced in one portion of the world, shipped across the oceans to be consumed in another part of the world," Al Ghurair said. Brazil ships to most parts of the world, including the Middle East. Having production closer to where it's consumed would lower transportation costs and the carbon footprint, Al Ghurair said.
Most of the global surplus is in the form of white sugar, with the market for the raw variety remaining tighter, Martin Todd, managing director of LMC International, a consulting company, said Sunday.
Refining raw sugar from cane became less profitable after the European Union returned to the export market this season. The white premium tumbled to about $60 a ton from a high of $115 a ton last year. Al Khaleej has also found it hard to compete as other refiners popped up in the region over the past few years, pushing it out of key markets such as Iraq.
Al Khaleej's large storage capacity can be an asset for the company in oversupplied markets as it allows it to buy cheaper raw sugar in the spot market, process it later and sell at a profit. While the market is facing a large surplus, the price gap between raw sugar contracts is not wide enough to take advantage of that trade, Al Ghurair said Sunday in Dubai.
His company has also looked at the potential to build a beet processing plant in the U.K., but it has "almost" given up on the plan as obtaining permission to build has proven difficult, he said.