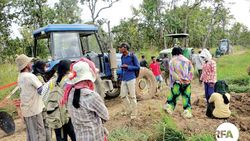 Kuy indigenous villagers block tractors at a protest against Chinese-owned Hengfu Sugar (Photo: RFA)
Asian Peasant Coalition | 4 February 2018
APC condemns Heng Fu's land grabbing in Cambodia
The Asian Peasant Coalition (APC) strongly condemned the intensifying repression and land grabbing carried out by the Chinese company Hengfu Group Sugar Industry Co., Ltd. (Heng Fu) against the indigenous Kuy people of Preah Vihear, Cambodia.
Heng Fu is based in Guandong, China which mainly produces diversified sugar products. In 2011, it was granted economic land concessions (ELCs) over more than 42,000 hectares of land in Preah Vihear by the Royal Government of Cambodia (RGC). ELCs are part of Cambodia's efforts to transform small-scale farmer landscapes into agro-industrial ones.
According to research conducted in 2016 by an international NGO, the five companies (Heng Nong, Heng Rui, Lan Feng, Heng You, and Rui Feng) appear to be subsidiaries of Heng Fu that opened its US$360-million mill and refinery in 2016 with the aim to supply sugar to markets in the European Union (EU), India, and China. The new sugar mill will be among the biggest in Asia.
Local advocacy group Ponlok Khmer, in Preah Vihear, estimated that the ELCs granted to Heng Fu have affected more than 20,000 people in the agricultural districts of Chhaeb, Chey Sen, and Tbeng Meanchey.
"The Cambodian government promises that these ELCs will bring about development. In reality, however, it destroys the livelihoods and culture of the indigenous Kuy people. Biodiversity and natural ecosystems were destroyed. The development they are talking are actually geared for Heng Fu's profit", stated P. Chennaiah, chairperson of the Asian Peasant Coalition (APC).
"The Kuy people only learned about the ELCs when the company started clearing their ancestral lands and forest in 2012. The Kuy people were never consulted on the project. When they confronted Heng Fu, local authorities accused them of illegal settlement on government-owned land," remarked Chennaiah, also the secretary general of the Andra Pradesh Agricultural Workers Union (APVVU) based in India.
China accounts for around a fifth of ELCs – land leases for private firms and individuals involved in agriculture and agriculture-based industries in Cambodia. Chinese firms hold ELCs for sugar, rubber and palm oil plantations covering about 400,000 hectares out of Cambodia's recorded 2.1 million hectares of total ELCs.
"We oppose Heng Fu's so-called local people's guards recently set up in their communities whose real intention is to harass the Kuy people. Villagers freedom to assembly are prohibited. Entry of outsiders are also restricted," stated Zenaida Soriano, APC vice-chairperson and concurrent national chairperson of AMIHAN (National Federation of Peasant Women) based in the Philippines.
"Repression against the farmers defending their land is happening elsewhere in Asia. In the Philippines, eight Lumad farmers from the T'boli and Dulangan Manobo tribes who are reclaiming their ancestral lands from Consunji were massacred by Armed Forces of the Philippines (AFP) soldiers in Lake Sebu in South Cotabato on December 5, 2017. The farmers were part of 140 T'boli-Manobo peasant families who have collectively occupied and tilled their ancestral land that were landgrabbed by the Consunji family. The land occupation campaign started in August 2017 and now covers 195 hectares," Soriano remarked.
"The area reclaimed by lumad farmers through land occupation is a portion of Consunji's 10,990-hectare landholding. It is also within the 3,000-hectare coal mine of the DMC-Construction Equipment and Resources Incorporated (DMC-CERI)," added Soriano.
"We express firm support to indigenous Kuy people's struggle for land. We call on the Kuy people to remain vigilant to halt Heng Fu's land grabbing. Do not give up the fight to reclaim your land," ended Soriano.
"We call on the APC members across Asia to urge the Cambodian government to heed the Kuy peoples demand to stop Heng Fu's land grabbing. The 2001 Cambodian Land Law limits the total area of ELCs that can be granted to a single entity to 10,000 hectares. Heng Fu registered its five subsidiary companies in order to circumvent the law," Chennaiah ended. ##
Reference:
P. CHENNAIAH (India)
APC Chairperson and APVVU Secretary General
ZENAIDA SORIANO (Philippines)
APC Vice-chairperson and AMIHAN National Chairperson
Mobile: +639-214571904