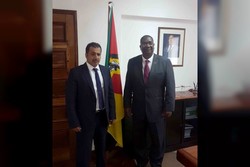 Higino Francisco de Marrule, Minister of Agriculture and Food Security of Mozambique tells Dr. Rashid Al Afari, Charge d'Affaires at the UAE Embassy in Mozambique that his ministry will co-ordinate with other relevant authorities in Mozambique to provide UAE investors with land to promote agricultural development. (February 2018)
Emirates News Agency | 2 February
UAE, Mozambique accelerate agricultural collaboration
MAPUTO, 2nd February, 2018 (WAM) -- Dr. Rashid Al Afari, Charge d'Affaires at the UAE Embassy in Mozambique, has met with Higino Francisco de Marrule, Minister of Agriculture and Food Security of Mozambique, at the ministry's headquarters in Maputo.
During the meeting, Dr. Al Afari highlighted the UAE government's interest in developing relations with Mozambique, most notably in agriculture and food security.
Dr. Al Afari, who is also the UAE Non-Resident Ambassador to Mauritius and Swaziland, noted the willingness of Emirati companies to invest in Mozambique and benefit its people.
De Marrule expressed his ministry's readiness to strengthen the relations between the two friendly countries, through developing all possible channels of co-operation, while pointing out that his ministry will co-ordinate with other relevant authorities in Mozambique, to provide UAE investors with land to promote agricultural development.
Mozambique is looking forward to capitalising on its positive relations with the UAE and benefitting from Emirati agricultural expertise to ensure food security, he added.