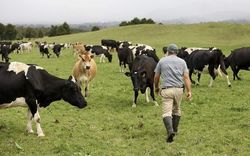 The National Business Review | 15 January 2018
Canada's Public Sector Pension Board gets OIO approval to buy $17.7M dairy farm and block
by Rebecca Howard
Canada's Public Sector Pension Investment Board, or PSP Investments, got a green light to buy a medium-sized dairy farm and a neighbouring dairy support block in Canterbury for $17.7 million just ahead of tougher requirements on land sales to foreign buyers.
Ramsay Dairy Farm, which is indirectly owned by PSP Investments, was granted consent to buy 335.2 hectares of land and 77.2 hectares of land in Hororata, Canterbury by the Overseas Investment Office.
According to the OIO, the properties will be amalgamated to create a larger dairy farm. "The applicant proposes to convert some of the dairy support land to create a larger milking platform, and to support increasing the total number of cows by approximately 400 cows," it said in a summary of the decision.
The move got in ahead of tougher requirements for foreign buyers to provide additional benefits to the New Zealand economy and also slashed the size of farms covered by OIO applications to any land purchase over five hectares, other than forestry.
In late November, Associate Finance Minister David Parker said the then-existing directive to the OIO was "too loose", applying only to "very large farms more than 10 times the average farm size".
He underscored sales restrictions generally applied to sheep and beef farms over 7,146 hectares or dairy farms bigger than 1,987ha. The "new directive tightens how we assess overseas investment in New Zealand to ensure authorised purchases provide genuine benefits," he said at the time.
The new rules applied from Dec. 15. The PSP Investment approval was granted on Nov. 30.
The OIO said Canadian the pension fund met the test of generating a benefit to New Zealand with the creation of additional jobs, an increased volume of milk being processed domestically, higher export receipts and capital investment to convert dairy support land to dairying.
The government agency also noted PSP Investments has previously made beneficial investments in New Zealand, creating jobs and introducing extra investment for development purposes.
PSP Investments is one of Canada's largest pension investment managers, with C$139.2 billion of net assets under management as at Sept. 30, 2017, according to its website. Funds are invested for the pension plans of the federal public service, the Canadian Armed Forces, the Royal Canadian Mounted Police and the Reserve Force.
In New Zealand, the Canadian pension fund owns dairy farms, a stake in Kaingaroa Timberlands and a portfolio of properties.