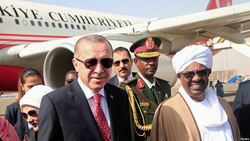 Turkey's President Recep Tayyip Erdoğan was in Sudan, where discussions took place on his country's lease of 780,000 ha for export production.
Daily Sabah | 4 January 2018
780,000 hectares of land in Sudan to boost agricultural crop
by BARIŞ ŞIMŞEK
The countdown for another flock of Turkish investors into Africa has begun after President Recep Tayyip Erdoğan's visit to three African countries - Sudan, Chad and Tunisia.
Foreign Economic Relations Board (DEİK) Turkey-Sudan Business Council Chair Mehmet Ali Korkmaz indicated that 780,000 hectares (7,800 square kilometers) of land leased by Turkey would be open to Turkish investors and agriculture production, doubling Turkey's crop.
Last week's high level three-country Africa tour by President Erdoğan, which was primarily dominated by business forums and cooperation agreements, facilitated the entrance of Turkish business people into new markets.
While Turkey was assigned to renovate Suakin Island for tourism purposes, an area of 780,000 hectares was allocated for Turkish investors, and 12,000 hectares of this land will be operated by the General Directorate of Agricultural Enterprises (TİGEM).
The DEİK Turkey-Sudan Business Council chair said when agricultural activity on the land in Sudan begins, harvests twice the entire agricultural crop in Turkey can be made.
Korkmaz also said that the goal of reaching $10 billion in bilateral trade volume will be reached and Turkey can also export produce to regional countries.
He added that during the president's visit, around 200 business people participated in business forums and a number of negotiations in electronics, defense, security, health and agriculture were initiated.
"According to official data, Turkey and Sudan have a bilateral trade volume of $500 million. But since we import cotton and sesame, bilateral trade is in favor of Sudan. In the upcoming period, we will gradually raise the trade volume to $10 billion," Korkmaz said.
With regards to the 780,000 hectares of agricultural land for use by Turkish investors, he said that Turkey would invest in the region to build oil and thread plants if the Ministry of Food, Agriculture and Livestock guide investors.
He also indicated that progress is still being made to establish a joint venture and commission with Sudan and under what conditions and for how long Turkey can conduct business in the country will be specified soon