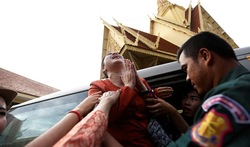 Activist Tep Vanny cries as the Supreme Court upholds a decision to deny her bail in Phnom Penh in January. Harassment of women land activists in Southeast Asia is on the rise, says a report. (Photo: Reuters)
Reuters | 15 Decembre 2017
Philippines tops year of land-rights killings
MUMBAI (Thomson Reuters Foundation) – More than two people were killed every week on average this year defending their right to land and resources, with the Philippines recording the highest number of casualties amidst a government crackdown on rural communities, a rights group said.
In the fight for land and the environment, communities around the world are locked in deadly struggles against governments, companies and criminal gangs exploiting land for products including timber, minerals and palm oil.
The Philippines accounted for 61 victims, followed by Brazil with 22, said the report released on Friday.
This has been "yet another year of continuing and intensifying attacks against rural communities that are asserting their right to land and resources," the report said.
"Alarmingly, global and regional developments that create conditions for greater land and resource grabbing continue to emerge and fuel social conflicts and unrest in rural areas."
The number of victims this year is lower than the 171 killed in the same period last year, Panap's data showed.
A separate estimate by UK-based advocacy group Global Witness puts the number of victims at 170 so far this year.
The final tally could equal – or exceed that of 2016, which was the deadliest year on record with about 200 deaths, a spokeswoman said.
In Asia, land rights defenders were also killed in India and Myanmar, and in Latin America, killings were recorded in Mexico, Peru, Colombia, Guatemala and Venezuela, according to Panap.
More than half the rights violations – including threats, assaults, arrests and displacement – involved mining companies. Plantations, power plants, infrastructure projects and real estate developments were also hotspots for violations.
In the Philippines, killings and other forms of repression targeting farmers, indigenous peoples and activists "spiked dramatically", with massive displacements of rural communities set to continue, the report said.
Harassment of women land activists in Southeast Asia is on the rise, the report said, while in Myanmar, the government has taken over vast swathes of land in Rakhine state after driving out hundreds of thousands of Rohingya.
China's multi-trillion dollar Belt and Road Initiative, which aims to recreate the old Silk Road with massive infrastructure projects connecting China to Europe and beyond, will also see land grabs and huge displacements, Panap said.