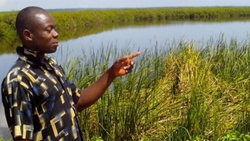 The Standard | 17 March 2017
Why rice project is sinking in Nyanza swamp weeks after Raila accused of extortion
By Isaiah Gwengi and Olivia Odhiambo
NAIROBI, KENYA: The fate of the Multi-billion shilling Yala swamp Dominion Farms project in Siaya hangs in the balance following a fallout between an America investor and Nyanza politicians.
Two weeks after Calvin Burges, the American investor behind the 15 years project,
accused
opposition leader Raila Odinga and ODM MPs of harassing and extorting money from him, hostility is rising against the investor amid reports that he is preparing to abandon the venture.
A Siaya MCA has sued him for defamation while Raila's close allies and MPs (he named in his 22-page statement) have branded him a 'con man' and a Jubilee stooge being used to undermine Raila. They also want his neck for allegedly calling them 'beggars, corrupt and desperate leaders'.
Burges is currently under siege over his attack on Nyanza politicians.
Besides the extortion claims, Siaya leaders are angry that the investor belittled the county as a place ravaged by death and diseases.
Burges
said in his statement
that when he landed in Siaya in 2003, he found a people ravaged by disease and poverty: "It was a place of forgotten people. I found toothless old men with tears running down their cheeks as they begged me for help. This was truly a place of death."
He claimed that he was the first White man children in Siaya had ever seen and wondered why local leaders hated him when he bought civilisation to the area.
Alego Central MCA, Leonard Oriaro who was adversely mentioned in the Dominion Dossier as the mastermind behind the harassment, blackmail and extortion has through his lawyers demanded an apology from Burges, a missionary turned investor.
In his dossier, Burges alleged that his troubles began when he refused to fund Raila and his ODM party. Although Raila has declined to respond directly to Burges' claims, his political allies like elder brother, Nominated MP Oburu Odinga and his sister Kisumu, Deputy Governor Ruth Odinga, haVE termed Burges a liar and an alarmist seeking favours from the Jubilee government.
Gem MP Jakoyo Midiwo, another Raila relative who is also deputy leader of Minority in Parliament, said Burges was throwing tantrums and dancing with Jubilee as an excuse to relocate the project in West Africa. He warned that the investor would not be allowed to leave the country with farm machinery.
"We know he is planning to relocate, but we want him to leave the farm machinery intact because they were bought in this country with money generated from the sweat of our people," said Midiwo. "Odinga is not a beggar as Burgess is trying to portray him. We are not going to allow him to continue tainting the image of our leaders," he charged.
His Bondo counterpart Gideon Ochanda threatened to sue the American investor, terming his recent accusations as character assassination.
"The accusations are absolutely false and pure nonsense. This is irresponsible and am not going to take it lightly. We shall meet in court," said Ochanda.
Dominion arrived in Siaya in style in 2003 to take over the expansive swamp from the Lake Basin Development Authority after signing a Memorandum of Understanding with the then Siaya and Bondo County Councils. In the MoU, the American firm was to grow paddy and maize, but it later started engaging in fish farming and later sugar cane. Siaya Governor Cornel Rasanga said the company was growing sugar cane and constructing a sugar mill at the Swamp illegally.
Burges signed a 25 years lease to farm rice and Maize. He later started doing fish farming. At the height of the project, the investor was a darling of the leaders who took their relatives and friends to the farm to be employed. Local MPs even organised massive demonstrations in Siaya, Bondo and Kisumu against an NGO opposed to overhead chemical spraying of crops and the barring residents from using the nearby river.
According to a petition presented to the National Assembly by the residents of Yala swamp through their MP on November 11, 2015, the petitioners alleged that they were displaced from their land by artificial change of course of River Yala and subsequent development activities of the Lake Basin Development Authority (LBDA) and the Dominion Farms Limited.
Yesterday, Midiwo said the investor was planning to relocate from Kenya following his fall-out with local community and political leaders
"We know he is planning to relocate to Nigeria but we want him to leave the farm machinery intact because they were bought in this country with money generated from the sweat of our people." said Midiwo.
Midiwo said Mr Burges was creating anon-existent animosity with local leaders to give him an excuse to leave.
"He is provoking us so that he can have an excuse. He even goes a head to tarnish the name of our respected leader Raila," said Jakoyo.
On the week Burges went public over his alleged frustrations, Siaya Governor, Cornell Rasanga told the investor to return the 3,000 acres of land it allegedly hived off the community land at the Yalla swamp or stop its activities in the county. Rasanga also ordered Burges to open up the two kilometre road that links Nyamonye to Ratuoro centre which he claimed had been illegally blocked by the company which grows maize, rice and fish at the expansive swamp.
Yesterday, Rasanga accused Burges of venturing into growing sugarcane at the Swamp without consulting the County government and other stakeholders.
Rasanga further faulted the dominion boss for ignoring his pleas and negotiations to locate land for the people to cultivate and graze their animals.
"He declined to give just 3,000 acres of land to the people and that is why we opted to source for an Indian Godavari Limited company to invest in part of the swamp. We have in the past years used dialogue and followed the right channels to air our grievances to the dominion farm but he failed to listen and our remedy was to bring his competitor on the swamp," Rasanga added.
The governor further accused the investor of failing to honour all the promises in the memorandum of understanding between it and the defunct county council.
"Our people have been crying that the investor shortchanged them and we cannot agree with him because he failed to live to his promises. He will either adhere to the people's needs or go away," the governor added.