UzDaily| 15 December 2017
Chinese company to invest US$500 million in agriculture sector of Uzbekistan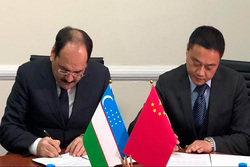 Chinese company Wanbang, located in Henan province (China), will invest US$500 million into projects in agriculture sector of Uzbekistan, the press service of Uzbekoziqovqatholding (Uzbek Food Holding).
The delegation of Wanbang visited Uzbekistan from 5 to 12 December 2017. The company works in the field of logistics of food products.
During the visit, the company representatives visited Tashkent, Samarkand, Jizzakh, Syrdarya regions and expressed a desire to establish and develop partnership relations with Uzbekistan.
Uzbekistan and the Chinese company agreed to implement 15 projects on production, processing and packaging of agricultural products, including livestock products, as well as export, import and re-export of finished products.
To implement these projects, the Chinese side will direct US$500 million of investments. This agreement was signed between Henan Wanbang Selected Supply Chain Management Co.Ltd, the Ministry of Agriculture and Water Resources of the Republic of Uzbekistan and Uzbekoziqovqatholding.
Within the framework of the signed agreement, logistics centers and facilities for processing agricultural products in an area of 10,000 hectares are planned to be built in free economic zones of Uzbekistan. It is planned to supply 100,000 tonnes of mung been, produced in Uzbekistan, to China.