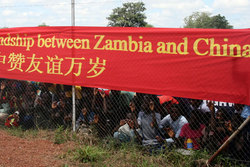 China Railway Seventh Group and the Zambian government signed an infrastructure construction deal for the planned 200,000 ha Kalungwishi Farm Block in Mporokoso district.
Xinhua | 21 November 2017
Chinese firm, Zambia gov't sign agricultural infrastructure development project
LUSAKA, Nov. 21 (Xinhua) -- China Railway Seventh Group on Tuesday signed an agreement with the Zambian government for the start of infrastructure development on a farming block situated in the northern part of the country.

The signing of the 393-million-U.S. dollar Agricultural Infrastructure Development Project for the 200,000 hectares of Kalungwishi Farm Block in Mporokoso district will see the Chinese firm construct various infrastructure such as roads, bridges, dams, canals, power distribution lines, among others.

The construction period, which will run for three years, will result in the creation of up to 35,000 jobs when the farming block starts operating.

Dora Siliya, Zambia's Minister of Agriculture said the signing of the agreement marks a milestone in the government's endeavor to construct infrastructure in farming blocks.

The government, she said, was committed to the development of farming blocks as a pre-requisite to diversify the country's economy from depending on copper and that the farming blocks will be rolled out throughout the country's 10 provinces.

"Agriculture is the way to go if we are to develop our economy and we are happy that the Chinese have come forward to help us develop infrastructure in these farming blocks," she said.

Ouyang Daobing, Economic and Commercial Counselor of the Chinese Embassy in Zambia said the two countries have made great achievements in agricultural cooperation over the past years.

According to him, the China-Zambia agricultural technical demonstration center has already trained over 1,000 Zambian agricultural technicians while nine large-scale silos have been built with the assistance of the Chinese government as well as the construction of 920 boreholes.

"Besides, more than 20 farms invested by Chinese nationals or companies are now operating in Zambia, introducing the advanced technologies, rich experiences and bringing modern demonstration effects to the agriculture sector of Zambia," he said.

He added that the proposed farm block will be a new milestone for the China-Zambia agriculture cooperation, adding that the project was crucial to deepen the exploitation of agricultural resources in the region.