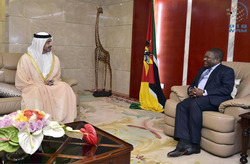 President Filipe Jacinto Nyusi of the Republic of Mozambique receives H.H. Sheikh Abdullah bin Zayed Al Nahyan, UAE Foreign Minister.
AIM | 21 November 2017
Mozambique: UAE Promises Wide Ranging Investment
Maputo — The United Arab Emirates (UAE) on Monday declared that it will invest in a wide range of areas in Mozambique, including agriculture, mineral resources and transport.
Speaking at the official opening of the UAE embassy in Maputo, the country's ambassador, Asim Al Ramrah, declared that the UAE and Mozambique recently signed agreements on the reciprocal promotion and protection of investments, and on avoiding dual taxation. Al Ramrah believed these would help investment and trade flows between the two countries.
Among the projects listed by the ambassador is the building of a professional training centre in the southern province of Inhambane, costing 2.5 million dollars. This centre should produce its first graduates next year.
Al Ramrah said that discussions on cooperation in agriculture are encouraging and are reaching their final phase. A Mozambican delegation is in the UAE to conclude procedures prior to signing a formal agreement.
Dubai Ports World, the ambassador added, is in negotiations with the Mozambican government over the future of the port of Nacala, in the northern province of Nampula. The Dubai port company is already one of the main partners in the Maputo Port Development Company (MPDC), which holds the lease on Maputo port.
Al Ramrah promised that Emirates Airlines will shortly begin direct flights between Dubai and Maputo, which he believed would encourage trade and investment between the two countries.
The ambassador said that to date the UAE has invested 3.3 billion US dollars in Mozambique. Of this sum, 1.3 billion dollars was foreign direct investment, which generated more than 17,000 jobs. 33 UAE companies are currently operating in Mozambique, and seven Mozambican companies are working in the UAE.
Asim Al Rahmah has been UAE ambassador to Maputo since April 2016.