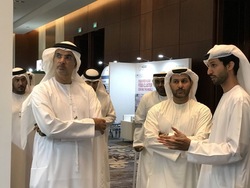 Saif Mohamed Al Hajeri, chairman of Abu Dhabi Department of Economic Development (centre), visited Agriscape 2017. (Photo: Center for Food Security Twitter)
$1bn worth of deals signed at Agriscape
Inaugural exhibition on agricultural investments abroad took place in Abu Dhabi
Agriscape 2017, Abu Dhabi's first international exhibition on agricultural investments abroad, facilitated business deals worth over $1 billion (AED4bn) during the course of its two days.
A total of 51 exhibitors, offering agri-land and other agri-assets from more than 40 countries, took part in the event, as well as 300 buyers and key decision-makers from companies active in the food security, farmland and agro-processing sectors across the globe.
"We are proud of the huge success achieved by the inaugural edition of Agriscape that generated significant business leads for its participants and helped them forge strategic alliances," said Khalifa Al Ali, CEO of the Food Security Centre, Abu Dhabi (FSCAD).
"Agriscape has now established itself as the definitive platform to gain valuable insight into the latest trends and showcase a diverse array of global agri-land investment opportunities. I am confident that the event will go a long way in supporting food security in the UAE and stepping up awareness about the opportunities available in the farmland sector across the world."
Agriscape 2017 was organised by the Abu Dhabi Food Security Alliance and FSCAD, in collaboration with the Ministry of Presidential Affairs, the Ministry of Foreign Affairs and International Cooperation, Abu Dhabi Commercial Bank, Abu Dhabi Ports, Abu Dhabi Chamber of Commerce and Industry, Department of Culture and Tourism, and Al Dahra Agriculture.