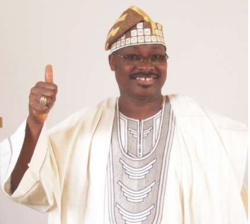 Prince Oyewumi Oyewole, Commissioner for Agriculture and Natural Resources in Oyo State, Nigeria
Daily Post | 15 November 2017
Oyo earmarks 250,000 hectares of land for farming
By Daramola Adebayo
The Oyo State Government on Tuesday disclosed that about 250,000 hectares of arable land have been earmarked as agricultural zone for the use of farmers in the state.
It stated that over 500 farmers have applied for the use of land to be allocated for free by the state government to boost agricultural produce in the state, explaining that the Zero Tolerance policy of the present administration in the state on fallow agricultural farm land was aimed at encouraging mechanized farming by every individual.
Commissioner for Agriculture and Natural Resources in the State, Prince Oyewumi Oyewole, who made this declaration in Ibadan, noted that the zero tolerance policy was meant to attract foreign investors to the state.
He said that the government will not revoke the ownership of the land but rather create the enabling environment that will encourage farming, stressing that the state government's policy was to enhance socio-economic growth in the state.
He pointed out that aside from farming, the zero land policy will also create job opportunities for youths and boost the economy of the state as well as the country.
Oyewumi noted that the government will facilitate and coordinate the agreement between land owners and interested farmers, adding that the policy had been yielding positive result.