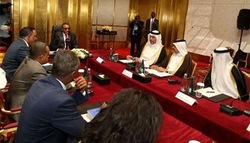 Qatar's Minister of Economy and Commerce Sheikh Ahmed bin Jassim bin Mohamed al-Thani and delegates with Ethiopian Prime Minister Hailemariam Desalegn at a meeting in Doha on Tuesday where they discussed an investment protection agreement to help facilitate investment co-operation between Qatar and Ethiopia in various sectors, particularly in agriculture and food security. (Photo: Anas Khalid)
Gulf Times | 14 November 2017
Qatar, Ethiopia sign pact on investment protection
Qatar and Ethiopia have finalised and signed an investment protection agreement on Tuesday, according to HE the Minister of Economy and Commerce Sheikh Ahmed bin Jassim bin Mohamed al-Thani.

The minister made the announcement in the presence of Ethiopian Prime Minister Hailemariam Desalegn, who, along with a delegation of ministers, discussed investment opportunities with officials of Qatar Chamber and other Qatari businessmen.

Sheikh Ahmed said the agreement would help facilitate investment co-operation between Qatar and Ethiopia in various sectors, particularly in agriculture and food security. It would also play a significant role in enhancing business opportunities for the private sectors of both countries, he noted.

The economy minister also said a major property development firm in Qatar had announced plans to develop a major real estate project in Ethiopia. This, he continued, opens further investment opportunities between both nations.

Speaking to Gulf Times on the sidelines of the business meeting, Fitsum Arega, the commissioner of the Ethiopian Investment Commission, said work on the project "is in its early stages" for the construction of a five-star hotel and a large office complex.

The Ethiopian prime minister emphasised the role of the Qatari business community in bringing in capital, skills and technical knowhow, and management competence to Ethiopia. He invited the Qatari business community to explore investment opportunities in renewable energy and power generation, infrastructure development and PPPs, industrial parks and real estate, agriculture and food security, livestock and commodities production.

"Ethiopia has 80mn hectares of arable land suitable for agriculture, 3mn of which, have been allocated to investors. There are also significant investment opportunities in our tourism and hospitality sectors. Our country has a 25% annual growth in tourist arrivals due," he said.

During the meeting, Qatar Chamber vice chamber Mohamed bin Towar al-Kuwari stressed on the role of laws and regulations in making the investment climate in both countries conducive to business, and called for a regular review of these investment policies.

He also underscored the "strong interest" of Qatari businessmen to examine the business and investment opportunities in Ethiopia. The vice chairman also said Qatar Chamber will also study plans to send a business delegation to Ethiopia.

Responding to al-Kuwari, the Ethiopian Prime Minister said: "Ethiopia always takes a pragmatic approach in understanding the needs of the private sector and to make the business environment conducive to private investment. We have consistent meetings with concerned officials to readily address the needs of the private sector."

Desalegn also said Ethiopia is not only dealing with investors from the Gulf but also from Asian and European countries such as India, China, and Turkey, who are among the biggest investment communities in Ethiopia.