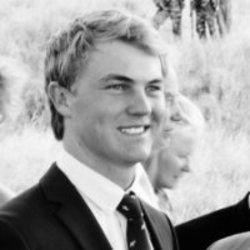 "We currently manage over 50 000 acres of agricultural land in East Africa and are growing over 20 different crops," says Geoffrey Morley, Director, Cross Agriculture Ltd.
Agribusiness Congress East Africa | 23 October 2017
Exclusive interview with Geoffrey Morley, Director, Cross Agriculture Ltd, bronze sponsors at the upcoming Agribusiness Congress East Africa in Kampala, Uganda.

Geoffrey Morley, Cross Agriculture, Agribusiness Congress East Africa1) Let's start with some background on your company, your products and services.

Cross Agriculture specialises in providing farms, businesses and investors with management and project development services. Our team combines local, East African knowledge with top-shelf expertise from around the world. We ensure that farms and projects are managed using methods gained from 100 years of experience farming in Africa.
2) Which current projects are you particularly excited about at the moment?

We are particularly excited about a new prospect in Kenya. We will be converting over 10 000 acres of dry cattle grazing land to food production. We will be contributing to food security in Kenya as well as funding wildlife conservation.
3) How important is Uganda and East Africa for your company as a market?

We operate in Uganda and East Africa more than anywhere else. I see huge potential for the agriculture market in Uganda to grow.
4) What in your view are the main challenges facing the agri sector in Uganda? And in East Africa?

Our company began providing management services in order to fill a gap in the market. We saw countless projects and investments fail due to poor management and I believe that this is still the main challenge to many investors and farms. We are here to help.
We also see investors and businesses struggle with accessing land for agriculture and we would love to see all government agencies become more efficient and easy to use.
5) Any success stories/case studies that you can share?

We currently manage over 50 000 acres of agricultural land in East Africa and are growing over 20 different crops. Our projects range from intensive production of medicinal plants to soft fruits, tree-nuts, beef ranching and broad acre cropping.
We are particularly proud of developing a commercial farming hub in central/northern Uganda. This hub will produce and process over 2000 Ha of crops, develop smallholders and establish processing facilities in the area.
6) What is your vision for the industry?

I would like to see the industry work towards enabling East Africa to reach its food-producing potential. We see the professional management of farms as one of the main ways of achieving this goal.
7) What surprises you about this sector?

We live and work in a continent that is blessed with millions of hectares of the world's finest agricultural land and yet Africa imports over $40 billion worth of food each year. This needs to change.
8) You are a sponsor at the upcoming Agribusiness Congress East Africa, why the decision to partner with us?

We are eager to meet and exchange ideas with the region's greatest agricultural minds. The Agribusiness Congress brings these people together in one place.
9) What will be your message at the event?

Cross Agriculture is the management partner that your farm needs.

10) What are you most looking forward to at Agribusiness Congress East Africa?

I am most looking forward to meeting new people and sharing ideas.
11) Anything you would like to add?

We are proud to be a part of this event. The congress is a great way to link up with the people and companies that are shaping the future of African agriculture.
The agriculture sector in this region is constantly changing; farmers are responsible for both feeding their people and caring for the land. We are expected to grow more using less and still leave the land in a better state than when we found it. We need to work together to achieve these goals.