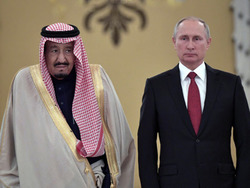 Saudi Arabia's King Salman, on a landmark visit to Russia, and President Vladimir Putin.
Food Navigator | 20 October 2017
Saudi makes food security play through Black Sea grain joint venture
The Saudi Agriculture and Livestock Investment Company (Salic) has joined the UAE's Al Dahra in a SAR5bn (US$1.3bn) joint venture to invest in the Black Sea region.
"Abdullah Aldubaikh, Salic's chief executive, said the venture will make investments across 10 countries bordering the sea in grains and livestock. These investments will be in the form of acquisitions and will include farmland, logistics and storage, he said."It is part of the food security strategy," he added.
Al Dahra, owned mainly by Abu Dhabi investors, is already in partnership with the UAE government for its food security programme.
"Investing in agriculture abroad is very important for Saudi Arabia to compensate for the grains not being produced locally, we are part and parcel of this strategy," Aldubaikhi said.
The announcement comes days after King Salman of Saudi Arabia met Russian President Vladimir Putin in Moscow, agreeing joint investment deals worth several billion dollars.
Saudi Arabia began scaling back its domestic wheat-growing programme in 2008, planning to rely completely on imports by 2016 to save water. Russia, one of the world\u2019s top grain exporters, is expected to harvest a record grain crop in 2017.
Salic is considering investing in a Russian grain producer, RZ Agro, owned by local conglomerate Sistema and members of the Louis-Dreyfus family, Sistema said last week. It produces grain and has a land bank of 106,000 hectares in Russia's southern regions.
--
05.10.2017 | UkrAgroConsult
A group of senior European and Black Sea grain traders who left Louis Dreyfus at the end of August plan to launch a new business in Switzerland targeting the Ukrainian market, three sources with knowledge of the matter said.
The business, called Sierentz Global Merchants according to one of the sources, was registered on Sept. 13 in Paudex, near Lausanne, Switzerland.
A company called Sierentz Global Merchants is already present in the United States and is controlled by members of the Louis-Dreyfus family, but distinct from the historic group Louis Dreyfus Company (LDC) where the grain trading team used to work.
The U.S. company mainly trades energy products such as natural gas but is expanding into grains, one source said.
The Swiss firm will focus on the import, export and trading of raw materials, mainly grains, information on the business published in the Swiss Official Gazette showed. Activities will also include international trading, brokerage and charter.
The ex-LDC traders, including former Louis Dreyfus Global Head of Grains David Ohayon and former head of Ukraine and Balkans Lamprakis Lazos, left without saying what they would do next, fuelling intense market speculation.
Ohayon and Lazos were the most senior traders who left LDC at the same time, sources had said. It was not clear how many would now join the new Switzerland-based business.
The sources, who spoke on condition of anonymity, said the new business would start operating in early 2018. Ohayon would remain in Geneva, while Lazos would lead activities in Ukraine and hire more staff there, they said.
Ohayon and Lazos did not respond to requests for comment. Sierentz declined to comment.
Official information published by the local administration showed property rights of the building in Paudex where Sierentz Global Merchants has been registered belong to Peter Mann.
Mann is one of the Louis-Dreyfus family members behind Sierentz Group, which invests in commodities.
He is a descendent of Leopold Louis-Dreyfus, founder of the agriculture group in 1851, who was born in the French town of Sierentz.
Mann is no longer involved in the main trading group, now controlled by Margarita Louis-Dreyfus, but through Sierentz has investments in energy in North America and farming in the Black Sea region through Russian branch RZ Agro Ltd.
RZ Agro Ltd in 2012 established a joint venture with Russia's Sistema gathering grain and oilseed farms and assets of the two groups in Russia.
The joint venture's chairman, French national Thomas Schulz, has also been named administrator of the Swiss-based Sierentz Global Merchants.
Ukraine is one of the world's largest grain exporters, shipping corn and wheat in competition with the European Union and United States.
Ohayon left LDC, one of the world's top grain trading firms, after differences of opinion with the company's management. He was replaced by Adrian Isman as Senior Head of Grains and Value Chain Platforms.
LDC's grain division has struggled to make profits in a period of high global supplies and subdued prices, in line with other major agricultural trading companies.
The group said the business had weak results in the first half of the year, even as the wider company posted improved