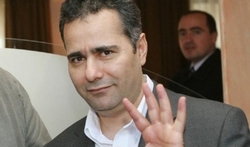 Romania Insider | 16 October 2017

EBRD buys 13% stake in Romanian agribusiness group
The European Bank for Reconstruction and Development (EBRD) will buy a 13% stake in the Agricover group, owned by Iranian investor Jabbar Kanani.
Agricover is one of the main players in the local agricultural market.
EBRD will pay EUR 7 million for the stake, evaluating the whole company at EUR 54 million. The deal could be completed by the end of this year.
The Agricover group has more than 850 employees and supports over 4,500 farmers nationwide through its two main subsidiaries Agricover SRL and Agricover Credit IFN. In 2016, the firm reported a turnover of RON 1.2 billion (EUR 263 million) and provided RON 1.0 billion in financing.
EBRD is one of the largest institutional investors in Romania, with investments of EUR 7.6 billion in over 400 projects. EBRD's investments in agribusiness amount to EUR 10.3 billion in the world, EUR 700 million of which has been invested in Romania.