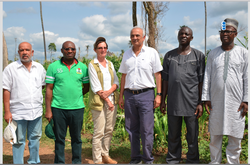 Ashvin Samtani (centre-right) is Chairman of the Triton Group, which is partnering with China's Choice International Group on a 4,000 ha commercial agriculture project in Anambra State, Nigeria
Vanguard | 14 October 2017
Anambra attracts N60bn agric investments

By John Ndu

Anambra State Government has attracted N 60 billion investment for establishment of 4,000 hectares of Commercial Agriculture Project. This was announced during the signing of Memorandum of Understanding (MoU), between Folio Holdings Limited, and the Anambra State Government, at Governor's Lodge, Amawbia.

The project is to be sited at Awba-Ofemili, Awka North Local Government Area (LGA), Anambra State. It will be in a partnership among Triton Aqua Africa Ltd., Alluvial Farm Nigeria Ltd., and Choice International Group.

Signing on behalf of the Anambra, Gov. Willie Obiano said the state under his administration, had promoted agricultural production to strengthen the economy and create food sufficiency for the state. Obiano said he had invested not less than, N2 billion in supporting farmers, saying the state had not less than, 500 Cooperatives that had commenced recruitment of youths in various segments of the economy.

"We have started recruitment of youths, especially in agriculture to give them basic rudimentary training in agriculture. "Before my administration, the GDP of the state was 1.8 trillion, but currently, it has grown to N3.9 trillion.

"From records, my administration has contributed N200 trillion to growth, making it N300 trillion," governor said. Gov. Obiano notes: "It is expected that work will commence, six months from the date of issuance of Certificate of Occupancy, and failing to do so, the land will revert to government".