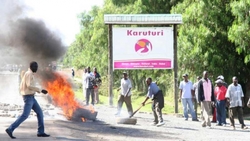 Workers protest outside Karuturi Flower Farm over unpaid salaries in Naivasha in December 2014. The farm owes present and past workers about Sh217 million in unpaid dues. [File, Standard]
The Standard | 13 October 2017
Indian lender finally puts Karuturi on the market
By Moses Michira
IN SUMMARY
- The planned sale of Naivasha-based Karuturi Ltd could mark the end for the erstwhile world's largest rose flower producer
- It is the second time that the farm, valued at Sh8 billion, has been put up for sale after an earlier attempt was blocked by the court
An Indian bank has put a multi-billion-shilling Kenyan flower farm up for sale over a disputed Sh4 billion loan.
The planned sale of Naivasha-based Karuturi Ltd could mark the end for the erstwhile world's largest rose flower producer.
Disposal of the farm is expected to offer a major relief to thousands of workers who have gone without pay as their employer battled insolvency in court since 2014.
Nairobi-based receiver managers Patel Shah Joshi and Associates, acting for India's ICICI Bank, yesterday announced in a press notice the sale of Karuturi Ltd over an outstanding Sh4 billion unpaid loan.
It is the second time that the farm, valued at Sh8 billion, has been put up for sale after an earlier attempt was blocked by the court.
Company records indicate that the nearly 2,500 present and former employees, mostly casual labourers, are collectively owed about Sh217 million in unpaid salaries since the firm went belly-up.
"Many former employees have never been paid their dues, but we hope the receiver managers will settle the debts after the sale," a former manager who requested anonymity told The Standard.
Separate companies
Most of the former workers were laid off after the farm was clamped down three years ago, with the receiver manager being unable to run its operations profitably. At one time the firm started marketing its produce as Twiga Flowers in a short-lived venture to ward off negative publicity following the takeover and unrelenting employee protests.
Unpaid salaries and the ICICI loans are only part of Karuturi's debts, with Kenya Stanbic Bank demanding another Sh383 million.
ICICI's notice announcing the disposal means that the owner, Ramakrishna Karuturi, has failed in his attempt to block the sale after the matter moved to the Court of Appeal.
Some of the assets put up for sale in the over 300-acre farm are owned through separate companies, including Rhea Holdings and Surya Holdings.
The assets include an expansive low-income housing estate where most of the workers lived, although the quarters are now significantly dilapidated.
Patel Shah Joshi and Associates was allowed to carry on with the disposal three months ago after the Court of Appeal overturned an earlier decision of the High Court that barred the sale.
Mr Karuturi had claimed that ICICI was responsible for the farm's financial woes, allegedly because it did not release funds as had been agreed.
This, he further claimed, crippled the farm's normal operations and subsequently led to its closure.
Mr Karuturi had last year mocked plans to sell off the flower farm, saying the loans were extended to Karuturi Ltd, which does not own the land.
"I am hoping they (liquidators) can find someone to buy air," Karuturi told The Standard, adding: "There is nothing in there to be sold."
Karuturi is also fighting another tax claim brought by the Kenya Revenue Authority.