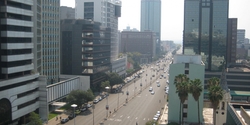 The Malawi Investment and Trade Centre held a Responsible Agricultural Investment (RAI) conference in Lilongwe.
Maravi Post | 2 October 2017
MITC calls for responsible agriculture investment to avert economic tumoil
By Lloyd M'bwana
LILONGWE-(MaraviPost)- The Malawi Investment and Trade Centre (MITC) this week emphasized on the need for the public to embrace responsible agriculture investment if Malawi is to avert economic misfortunes it is encountering.
The agenda will be pushed through new agriculture investment guidelines, which serious investors are required to follow.
These guidelines, which were developed by the Committee on World Food Security (CFS), includes fostering gender equality and women's empowerment, engaging youth and empowerment, respect tenure of land, fisheries, forests, cultural heritage, access to water, and support diversity and innovation, among others.
The new guidelines are being championed by MITC with its partner the Food Agriculture Organization (FAO) in sub Saharan Africa.
Speaking in an interview with MITC Chief Executive Officer, Clement Kumbemba, after hosting the Responsible Agricultural Investment (RAI) conference in Lilongwe, he said that the move will help to close gaps and propose ways of strengthening the process to ensure a more coherent screening process for agriculture investments.
Kumbemba said that there are projects that have stalled due to misunderstandings between communities and investors on land which could be avoided if the country had sound investment guidelines.
He added that Agriculture being the mainstay of Malawi's economy, which supports the livelihoods of about 80 percent of the population, responsible and sustainable investments in agriculture will improve those livelihoods and accelerate socio-economic development.
"Quite a number of investment projects have stagnated a bit because we are still trying to reason with the communities so that they can make available the amount of land that those investments are requiring.
"In Salima, we have an investor who is looking for 20,000 hectares of land and this far, we have only managed to negotiate about 5,000 hectares, but we are still engaging the communities to allow the investor to commence operations," Kumbemba said.
In her remarks, FAO Country Representative, Florence Rolle, said the move is pertinent considering that the Malawi economy is agro-based.
Rolle said it is very important because Malawi is having more and more agriculture investment proposals.
"So they will be properly screened and ensure the nation benefits. It is part of the process and there are many other things that are needed," Rolle said.
Responsible investment in agriculture and food systems is essential for enhancing food security and nutrition, and supporting the progressive realization of the right to adequate food.