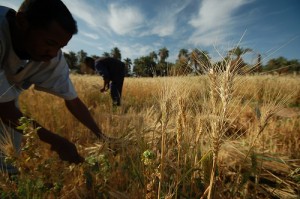 The National (UAE) | February 05. 2009
Loveday Morris
ABU DHABI // Political conflicts, uncertainty over food supplies and a rise in organised crime and money laundering could impede development in the Gulf, specialists at a conference in Abu Dhabi said yesterday.
Many of the problems were exacerbated by the global economic crisis, the international analysts said on the final day of the Human Resources and Development in the Arabian Gulf conference.
"We are in a dangerous period where several different global strategic and regional trends are intercepting," said James Russell, senior lecturer at the US Naval Postgraduate School's department of national security affairs. He said a new regional power structure was emerging.
"The regional balance of power is characterised by a number of dangerous asymmetries or imbalances," he said. "If these imbalances aren't managed properly, instability follows and development ... is a hostage to this process."
Mr Russell called on the GCC states to translate their economic power into "effective regional political influence" to preserve regional stability and curb Iran's ambitions.
The Palestinian-Israeli conflict and other flashpoints may become increasingly difficult to address in a global downturn, he said.
"These imbalances are not necessarily new but the conditions of today makes the abilities of actors, such as the United States for example, to address these factors much more uncertain in the future than they are today."
Food security, which is essential to political stability, also needs to be addressed, said Dr Joachim von Braun, director general of the Washington-based International Food Policy Research Institute.
Dr Braun urged Gulf countries to invest in agricultural research and development projects, without which food prices may climb again.
The worldwide financial crisis has reportedly stalled several agricultural deals between Gulf countries and overseas partners, including two between Bahrain and Pakistan.
The Abu Dhabi Government is in the process of buying 29,400 hectares of land in Sudan.
Dr Braun said such partnerships must be done in the "correct way" to be mutually beneficial. Rather than large-scale "plantation" projects, Gulf governments should embark on numerous ventures with small-scale partners, he said.
Money laundering and other financial crime is another stumbling block to development, said Dr Nick Ridley, senior lecturer in policing and security at London Metropolitan University.
"At present every economic region remains vulnerable to the impact of criminal funds from organised crime and terrorist fund transfers, and this vulnerability is intensified by the current economic crisis," he said.
The problem of money laundering has surged since September 11 as international task forces diverted their attention from the problem, he said.
"We are diverting and wasting law enforcement resources and it this that is causing further economic damage in the very period that we can least afford such wastage."
On the sidelines of the conference, Dr Ridley said the Gulf was especially vulnerable to fraud and money laundering because of the "sheer amount of investment coming in". He said any country that wanted to confront the problem should improve intelligence sharing between financial institutions and law enforcement agencies.
Sheikh Ahmed bin Tahnoon Al Nahyan, chairman of the Critical National Infrastructure Authority, said the UAE was striving to create a fair society characterised by transparency.
"The region we live in is facing serious challenges on various fronts. These challenges call for a serious approach," he said. "The relation between security and development is an intimate one; both are so closely linked together that each developmental effort contributes to more security and stability, and each success in establishing and deepening security supports and strengthens the march of development."
The three-day conference at the Emirates Centre for Strategic Studies and Research explored obstacles to sustainable development and the advancement of human resources in the Gulf.