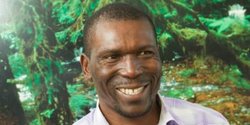 Le militant camourenais de défense de l'environnement Nasako Besingi, fondateur de l'ONG Sefe. Photo: Greenpeace / DR
Jeune Afrique | 26 septembre 2017 [EN]

Cameroun : arrestation du militant écologiste Nasako Besingi en zone anglophone
Le militant camerounais de défense de l'environnement Nasako Besingi a été interpellé lundi matin à Mundemba, au sud-ouest du Cameroun, en zone anglophone, où est situé le siège de l'ONG Sefe (Struggle to Economize the Future Environment) qu'il a fondée.
C'est dans les locaux de l'organisation, située à l'entrée de la ville, qu'il a été arrêté lundi 25 septembre, puis emmené à l'arrière d'un pick-up de la gendarmerie, a appris Jeune Afrique.
« Il a été arrêté à 7 heures du matin par de nombreux policiers, gendarmes et militaires. Ils ont indiqué avoir le droit de perquisitionner les locaux, l'ont mis à sac et ont embarqué Nasako besingi avec des documents », indique un collaborateur de Nasako Besingi sous couvert d'anonymat. Le lieu actuel de détention de Nasako Besingi n'est pas connu. Et pour l'heure, aucune réaction n'a pu être obtenue de la part des autorités sur les raisons de cette arrestation.
Plusieurs fois par le passé, Nasako Besingi a été mis en cause par la justice, qui lui reproche son opposition farouche à l'encontre du projet du groupe agro-industriel Herakles Farms, détentrice depuis 2009 d'une convention pour l'exploitation de 73 086 hectares pour la culture de palmiers à huile pour une durée de 99 ans dans le sud-ouest du Cameroun – concession par la suite réduite par Paul Biya en 2013.
Plusieurs fois condamné à des amendes
En janvier 2016 et en novembre 2015, Nasako Besingi avait été condamné à de fortes amendes, et à défaut de paiement à des peines de prison, pour avoir organisé des rassemblements d'habitants jugés illégaux. Blessed Okole, le directeur général de Sithe Global Sustainable Oils Cameroun (SGSOC), filiale camerounaise d'Herakles farms, indique cependant à Jeune Afrique « ne rien avoir affaire avec l'arrestation de Nasako Besingi. Vous me l'apprenez. D'autant plus que la SGSOC n'a plus une seule activité à Mundemba depuis deux ans ». Et d'ajouter que la société a planté en tout 800 hectares dans les localités de Talangaye, Manyemen, Ebanga et Ekita.
Nasako Besingi s'est par ailleurs opposé publiquement à plusieurs reprises ces derniers mois aux interpellations survenues dans le cadre des violences survenues dans les régions du Nord-Ouest et du Sud-Ouest du Cameroun, en pleine crise anglophone.
Le 30 août, Paul Biya a pris la décision de libérer par décret les principaux meneurs de la contestation anglophone (Félix Agbor Nkongho, Fontem Neba et Paul Ayah Abine) ainsi qu'un total de 70 personnes.