11-9-2017, Racismo Ambiental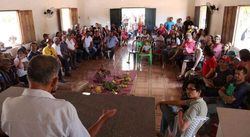 Durante as primeiras visitas, a delegação observou altos níveis de poluição agroquímica, diminuição dos recursos naturais, bem como impacto significativo sobre a saúde das comunidades tradicionais, resultado do monocultivo da soja.
A Caravana Matopiba, composta por especialistas em direitos humanos e desenvolvimento econômico e rural, avaliou que a grilagem de terras e a expansão das monoculturas de soja deixam um rastro de devastação ambiental generalizada, além de inúmeros impactos sociais nas comunidades da região.
Em todas as visitas, realizadas no período entre 6 a 11 de setembro, a Caravana testemunhou como o ambiente está danificado e o direito à alimentação, água e saúde das comunidades estão em risco.
A Caravana tem como objetivos verificar in loco os indícios de grilagem de terras por empresas nacionais e estrangeiras verificados em pesquisas prévias e as consequentes violações de direitos humanos decorrentes dessas grilagens. Um relatório preliminar com as recomendações serão partilhadas com as autoridades brasileiras, seguido por um relatório final até o final de 2017.
As histórias gravadas pela delegação nas comunidades de Melancias, Baixão Fechado, Sete Lagoas, Brejo das Meninas, Santa Fé, localizadas na região sul do estado do Piauí, são semelhantes. Os moradores sofrem com a diminuição do acesso à água, resultado do desmatamento e altos níveis de poluição por agrotóxicos que causam problemas graves de saúde. Segundo os relatos, o problema é desencadeado pela invasão de terras tradicionais por empresas, que não só muitas vezes falsificam títulos de terra, mas também são cúmplices de ameaças e intimidação contra as comunidades.
Líder da comunidade Melancias, o Sr. Juarez, disse aos observadores que os agrotóxicos usados nas plantações vão diretamente para o rio durante a estação chuvosa, o que torna impossível para eles usarem a água. Outra forma de contaminação por agrotóxicos relatada por Juarez vem por meio da pulverização de plantações com o uso de aviões. "Os agrotóxicos são trazidos para a comunidade pelo vento". Todos estes fatores, em conjunto com a seca recorrente, está levando ao agravamento das colheitas locais.
"Como plantar e colher se não tem água?", relata uma das mulheres da comunidade de Brejo das Meninas, que prefere não ser identificada.
Intimidações
Um dos destaques da delegação internacional, é de que a presença de grandes produtores, grileiros e milícias pode ser sentida em toda a região. Os membros da comunidade são constantemente intimidados e forçados a deixar suas terras, que são vendidas por preços muito baixos. Um grande número de famílias locais acabam de se mudar para as favelas das grandes cidades onde eles são obrigados a viver à margem da sociedade. A delegação se deparou com o caso da comunidade de Sete Lagoas, que recentemente relatou 10 casos de intimidação contra uma empresa que organiza a 'segurança' para os grileiros. Apesar de uma decisão judicial em favor dos moradores, as ameaças continuam.
Audiências Públicas
Os depoimentos das comunidades e as observações e recomendações da Caravana Matopiba serão o tema de audiências públicas em Bom Jesus (PI), Teresina (PI) e Brasília, realizadas nos dias 11, 13 e 14 de setembro, respectivamente. As audiências são realizadas em parceria com o Ministério Público Federal.
Caravana
A Caravana é coordenada pela FIAN Internacional e organizada pela FIAN Internacional, Rede Social de Justiça e Direitos Humanos, FIAN Brasil e CPT Piauí, e conta com o apoio de diversas organizações nacionais e internacionais, entre estas: Comissão Pastoral da Terra (CPT), CLOC – La Via Campesina, Via Campesina Brasil, GRAIN, ActionAid USA, Friends of the Earth International, WhyHunger, InterPares, Development and Peace, FIAN Suécia, FIAN Alemanha, FIAN Holanda, Solidaridad Suecia – América Latina, Grassroots International, National Family Farm Coalition, Family Farm Defenders, Student/Farmworker Alliance, Maryknoll Office for Global Concerns, Presbyterian Hunger Program, SumOfUs, Campanha Nacional em Defesa do Cerrado, FASE, FIOCRUZ, HEKS/EPER, ActionAid Brasil, Cáritas Regional do Piauí, Federação dos Agricultores Familiares (FAF), Federação dos Trabalhadores Rurais na Agricultura (FETAG-PI), Escola de Formação Paulo de Tarso (EFPT – PI), Vara e Procuradoria Agrária – PI, PROGEIA (Santa Filomena), Sindicato dos Trabalhadores Rurais de Santa Filomena, Paróquia de Santa Filomena, Instituto Comradio do Brasil.
—
Foto: Rosilene Miliotti / FASE