Romania Insider| 11 September 2017
40% of agricultural land in Romania belongs to foreign investors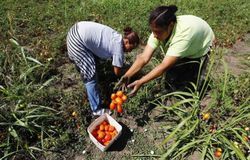 About 40% of the agricultural land in Romania belongs to foreign investors, according to a study the European Parliament carried out in 2015, reports local Ziarul Financiar.
Foreigners hold 5.3 million hectares of farmland in Romania, as the total agricultural land amounts to 13.3 million hectares.
Foreign investors from outside the EU own less than 10% of Romania's agricultural land, according to the report, whereas EU investors control 20-30% of the land. Most foreign investors are in Timis county, in Western Romania, where Italian companies cultivate a third the 150,000 hectares of farmland.
Foreign investors are interested in taking over agricultural land from Eastern Europe, especially from Romania, Bulgaria, Hungary and Poland, the report shows. These acquisitions accelerate the migration of the rural population, because performance farming does not require much labor.
Romanian lawmakers are trying to come up with a law that limits the land purchases by foreigners.