Hui Wing Mau, Archstone Investment buy majority of Australia's Bindaree Beef
Published: 06 Sep 2017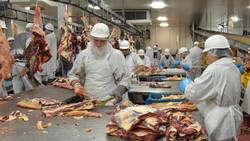 Global AgInvesting | 5 September 2017
Hui Wing Mau, Archstone Investment buy majority of Australia's Bindaree Beef

by Lynda Kiernan

Australian beef processor Bindaree Beef announced it has sold a 51 percent controlling stake in the family-owned company to Hong Kong-Australian billionaire, Hui Wing Mau, and Beijing-based equity fund Archstone Investment for approximately $120 million.
The McDonald family began Bindaree Beef Group 60 years ago as a farming operation. Over the ensuing years, the company has grown to become Australia's fourth largest beef processor with farms across New South Wales, a herd of 50,000 head of cattle, an abattoir at Inverell, the Myola feedlot, distribution facilities in Medbourne and Sydney, the Australian Meat Emporium retail outlet, and export offices located in China and the U.S.
The Hui family controls China's Shimao Property Holdings with stakes in 149 residential, hotel, and commercial properties across 48 cities in Asia and Australia, and existing significant investments in cattle operations in Western Australia, making Hui Wing Mau the eighth richest person in Australia with a worth of $5.9 billion.
In early 2015 Bindaree announced it was seeking out a strategic investor to allocate $100 million to the business to fund an increase in production and its expansion into new markets. At the time, many in the industry believed that the move could lead to an acquisition of the company based on growing beef consumption in emerging economies, particularly China, the difficult barriers to entry into the business, and Bindaree's scale of production.
The company, which also processes sheep and pigs at its abattoir, has targeted China as a key growth market, and in November 2015 the company agreed to a strategic partnership with China's Shangdong Delisi Food Company – one of the country's biggest meat processors. Under the terms of the deal, Shangdong was to pay $140 million for a 45 percent stake in the company, and in exchange, Bindaree would be given access to Delisi's distribution network with a reach of 700 million people. However, this deal eventually collapsed.
Despite the failed deal with Delisi, the potential for growth in Asia remained a target for Bindaree.
"The demand for beef in southeast Asia and China over the next 15 years is significant and the new joint venture has the combined expertise to leverage this opportunity," said Archstone in a statement.
JR McDonald, founder of Bindaree Beef, stated that the partnership with Hui and Archstone, which has already secured regulatory approval, will provide the capital needed for Bindaree to rapidly expand, upgrade its facilities, expand into retail-ready beef production, and boost its supply chain and distribution capabilities.
"Our joint vision for BBG is to create a more competitive company that can cater for both local and international markets," said McDonald. "The Consortium has a successful investment track record and has plans to continue their investment in the upstream supply side of the beef industry in Australia. We are very confident in their commitment to the growth of the Bindaree business."
Bindaree will continue to be led by Group Chief Executive Andrew McDonald who will oversee all day-to-day operations, while Archstone will contribute its expertise toward establishing a strategic business plan. A seven-person board also will be established, consisting of three seats from the original Bindaree company and four from Hui and Archstone. Archstone also plans to continue to work with advisory and farm services group — Australian Standard Agriculture — to seek out investment opportunities in Australia's ag sector.