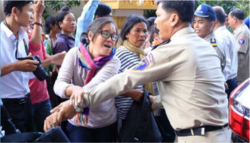 In Cambodia, a protester scuffles with police outside the Land Management Ministry while seeking resolution to longstanding disputes, August 30, 2017. (Photo: Pha Lina)
Phnom Penh Post | 31 August 2017

Cambodia: Land Ministry orders action on years-old sugar disputes
The Ministry of Land Management yesterday gave authorities in Koh Kong, Kampong Speu and Preah Vihear provinces one month to identify people affected by years-long sugar company land disputes.
In these provinces, sugar companies – including ruling party Senator Ly Yong Phat's Phnom Penh Sugar Company, Heng Huy Agriculture Group and Chinese company Lan Feng – stand accused of grabbing land from hundreds of families, with some conflicts lasting up to a decade.
"Within 30 days, Provincial Directors . . . are to help facilitate the applications for identifications of the concerned people and lands," read the ministry's press release, which was signed yesterday after a meeting with the ministries of commerce, agriculture and environment.
Affected villagers have to apply for identification between September 4 and October 3 in the districts of Sre Ambel in Koh Kong, Tbeng Meanchey and Chey Sen in Preah Vihear, and Oral in Kampong Speu.
Villager Phav Nhueng, 40, who claims Phnom Penh Sugar Company and Heng Huy grabbed her land, said she was more hopeful of a resolution now. "We had lost our trust in the district and provincial authorities, but now the minister handed the task to the provincial authorities," she said. "So we need to wait and see."
Phnom Penh Sugar Company representatives could not be reached yesterday.Land Management Minister Chea Sophara said that if they discovered people faking documents or attempting to illegally receive land, "those people will be punished".
Kampong Speu Provincial Governor Vey Samnang said that "bad people" had previously obstructed progress, with communities allegedly giving him inflated counts of affected people and companies not reporting conflicts. "However, right now, we have confirmed our stance firmly on them; if they do not cooperate, we will take legal measures," he said.
Further north, Preah Vihear Provincial Governor Un Chanda vowed that they were "preparing and dividing the tasks" to implement the agreement. "We will not allow the problem to last chronically," he said.
Equitable Cambodia Director Eang Vuthy highlighted that not all sugar land disputes were addressed, and that major conflicts, such as one in Oddar Meanchey, were left out.
However, he argued that if these conflicts really were solved, it could "make the government look better".
Genoveva Hernández Uriz, first counsellor at the delegation of the EU to Cambodia – which has lobbied the government to deal with the issues – said that they were awaiting further details.
"We are keen to see the long-standing land issues related to sugar [economic land concessions] resolved in an equitable and transparent way."