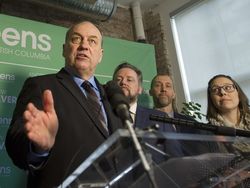 "What we don't want is third-party, offshore interests using our land, our homes as tools for speculative investment"
The Canadian Press | August 23, 2017
Greens push to end 'speculative' sales of farmland to foreign buyers in B.C.
By Gemma Karstens-Smith
VICTORIA — The leader of the Green party in British Columbia wants to see the government ban foreigners from buying farmland in a bid to cool the province's real estate market.
Housing prices in Metro Vancouver dipped temporarily after the previous Liberal government implemented a 15 per cent tax on foreign buyers last summer.
But Green Leader Andrew Weaver said buyers quickly started looking elsewhere for investment properties, including farmland, where the levy doesn't apply.
Many non-residents are buying land zoned for agricultural use but instead of farming, they're building large homes and selling the property for inflated prices, he said.
"We're seeing a preponderance of mega-mansions starting to appear on what formerly was agricultural land in parts of Metro Vancouver," Weaver said.
"While that may incentivize the construction industry in the area, it's not boding well for the long term, in which the agricultural land is slowly but surely being taken out of production."
Using agricultural land for pricey homes instead of farming drives up real estate prices and decreases food security, Weaver said.
"We're now in a situation where land and houses are being treated as commodities that are traded like gold or potash or silver as opposed to their purpose," he said.
Tom Davidoff, a business professor at the University of British Columbia, said he doesn't see how prohibiting foreign buyers from purchasing farmland would impact affordability.
"I don't understand how preventing some rich guy from building a luxury mansion on a farm makes an apartment in Vancouver cheaper. I really don't see that," he said.
But limiting large homes on agricultural land makes sense, Davidoff added.
"I think it's wrong to have people building mega-mansions and treating them as residential real estate if the whole point of (agricultural land) is not to be residential real estate," he said. "Better you should turn it into apartments than ridiculous luxury homes."
About five per cent of B.C. is zoned as agricultural land reserve, meaning it is protected for agricultural use.
Provincial regulations limit the land's usage, but each property is entitled to a single-family dwelling and owners can apply for exemptions to building and land use restrictions.
City councilors in the suburb of Richmond voted earlier this year to limit the size of homes on protected agricultural lands to 1,000 square metres.
City staff submitted a report to councilors in March saying they received about 15 applications for building permits on agricultural land per year, but the requested square footage had grown. One application submitted in 2016 requested permission to build a 3,809-square-metre home.
The report also said staff received 26 applications between January and mid-March of this year.
Several other provinces, including Alberta, Saskatchewan, Quebec and Prince Edward Island, have measures in place regulating who can purchase farmland.
Weaver said his proposed prohibition would not apply to anyone who pays taxes in Canada, including Canadians living overseas and people in the country on work visas.
"We want to encourage people to come live here, work here, pay taxes here. What we don't want is third-party, offshore interests using our land, our homes as tools for speculative investment," he said.
The Ministry of Agriculture said in a statement the government shares Weaver's concerns about how farmland is being used and has "been clear in our belief that (protected agricultural land) should be used for farming."
Last month, B.C.'s housing minister said the province's new minority NDP government is looking at the foreign buyers tax and other measures implemented by the previous Liberal administration to see if they should be kept, revised or scrapped altogether.