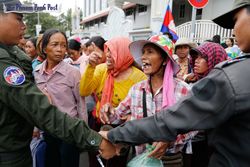 Security guards hold hands to block Koh Kong community members protesting outside the Land Management Ministry in Phnom Penh.
Pha Lina
Phnom Penh Post | Wed, 23 August 2017

Protesters, guards clash in a bid to reclaim farmland
About 100 protesters clashed with Chamkarmon district security forces after blocking the street in front of the Land Management Ministry yesterday in an attempt to get the attention of its top official.
The protesters, from four villages in Koh Kong province's Dang Paeng and Chikor Krom communes, have been locked in a long-running land dispute with the owners of Koh Kong Sugar Industry Company.
Many of them have been living in Phnom Penh's Samaki Rainsy pagoda for months as they petition the government for help reclaiming about 60 hectares of farmland.
A scuffle ensued after security guards began to push protesters – some of them crying, nearly all of them women – off of the road yesterday morning.
Sre Ambel district land dispute community representative Num Vannary said eight protesters sustained minor injuries.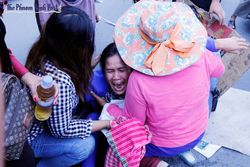 A woman cries as Koh Kong community members gather yesterday outside Land Ministry to protest against a sugar company for land grabbing.
Pha Lina
Villagers were unable to meet with Land Management Minister Chea Sophara, but had an audience with the ministry's administrative director and spokesman, Seng Lot, who promised them he would solve the dispute but said he could not give them a timeline.
"We will not leave this problem behind, but we have not made a promise of when exactly the problem will be solved," Lot said. Vannary said she felt "hopeless" after the meeting but said she would continue to demonstrate.
"I am no longer afraid of death," Vannary said. "If we die here, it is also good since we have lost all of the land already."
Phav Nueng, a protester, said villagers had lost their trust in district and provincial authorities and came to Phnom Penh to seek intervention.
"I have had no land and no job for about 10 years now after the two companies grabbed my land," Nueng said. "Farmers like us depend on the land. What can we do if they grabbed all of our land and the state does not create jobs for us?"
Protesters said they were later stopped from marching to Hun Sen's house. Chamkarmon District Deputy Governor Koe Samnang said that his main goal was to maintain security and avoid traffic congestion.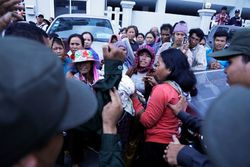 Koh Kong community members gather yesterday outside Land Ministry to protest against a sugar company for land grabbing.
Pha Lina
"I told them not to block the road since it affects other road users," Samnang said. "They did not listen. We, the authorities, do not want problems to happen to other people."
Soeng Senkarona, a senior investigator for rights group Adhoc, criticised authorities for allowing the dispute to drag on.
"The authorities should have a peaceful solution," Senkarona said. "I think that they do not want to trouble the authorities, but authorities should find a proper solution for them."

---

Radio Free Asia 2017-08-22

Cambodian Villagers Protest Decade-Old Land Grab Case in Koh Kong Province

About 100 villagers from southwestern Cambodia's Koh Kong province clashed on Tuesday with security forces in Phnom Penh during a protest over a decade-long land dispute with two sugar companies, a spokesmen for the residents said.

The villagers travelled from Chikhor commune in Sre Ambel district and from Botum Sakor district in Koh Kong to the country's capital to protest what they called land grabs by the Koh Kong Sugar Industry Company Ltd. and Koh Kong Plantation Company Ltd. that took place in 2006, said Phav Nheung, representing the villagers.

Several sustained minor injuries after clashing with security forces in Daun Penh district while demonstrating in front of the Ministry of Land Management, Urban Planning and Construction, she said.

The villagers accuse the companies of encroaching on their farmland over the past decade and not providing them adequate compensation for land taken for the production of sugar exported to the United States.

Phav Nheung told reporters that the villagers were protesting at the ministry because authorities in Koh Kong have not honored pledges to resolve the dispute and that Pal Chandaram, chairman of the Council of Ministers, as Cambodia's Cabinet is known, suggested they seek the intervention of the land ministry to try to speed up the process.

After the villagers waited a long time for a chance to address Minister Chea Sophara who did not appear, they decided to block the street in front of the building, prompting the clash with security forces, Phav Nheung said.

"We have no other options," she said. "That's why we blocked the street, but all to no avail. We are very desperate now. No one appears to be able to help us."

"We have been mistreated by the members of the security forces, authorities, and the police," she said. "But we will go to [Prime Minister] Hun Sen's home again to seek help. Our land is our life. When they take our land, they take our life."

The villagers said they have been in the possession of the disputed land since 1979.

The Cambodian government granted an economic land concession to the two sugar companies — both jointly owned by the Thai company Khon Kaen Sugar Industry Public Co. Ltd., Taiwanese food and beverage company Ve Vong Corp., and Cambodian Senator Ly Yong Phat, a ruling party legislator and prominent businessman from Koh Kong province — in August 2006.

Today they are 80 percent owned by the Thai sugar company and 20 pecent owned by Ve Vong Corp., according to information on the companies' website.

At the time, thousands of villagers said they were violently thrown off their land and forcibly relocated to make room for the companies' sugar cane plantation. They argued that the land transfer was illegal because they were never consulted prior to the granting of the concession.

No meeting with the minister

Mao Chhav, a resident of Prek Chik village in Chikhor commune, told RFA's Khmer Service that she lost eight hectares (20 acres) of land which she had cleared and used for the past 20 years.

"I have used that land since my child was very young," she said. "My husband and I have worked so hard to clear the land for use. He had to save his meager soldier's salary to pay some people to help us clear the land. We feel so bad that the company has stolen this land from us."

Other villagers at the protest in Phnom Penh said they were waiting for an opportunity to address Chea Sophara, because they had previously met with other officials who failed to resolve the issue.

They were finally allowed to meet with Seng Loth, the ministry's spokesman, who assured them that officials were looking into the matter, villager Yi Kunthea said.

The villagers are among 125 families from four communes in Sre Ambel and Botum Sakor districts who accuse the company of illegally appropriating more than 500 hectares (1,236 acres) of farmland.

They said they have traveled to Phnom Penh on other occasions to protest, but to no avail.

The villagers also said that their next protest will be outside Hun Sen's house, where they have demonstrated once before.

A year ago, about 70 villagers from Koh Kong province delivered petitions to the Cambodian government and European Union to lodge complaints about alleged land grabbing by the two companies, Voice of America reported.

According to information on the sugar companies' website, the two firms employ more than 800 staff during the high season, of whom 92 percent are Cambodians, and provide assistance to cane growers in the area surrounding the concession.

The last news release the companies issued on their efforts to address the land dispute with villagers is dated July 2015, when they held a meeting in Bangkok, Thailand, with representatives from Cambodia's Community Legal Education Center and the Koh Kong villagers' legal advisers.

"An agreement in principle is reached amongst the meeting participants, but the execution is pending the authorization from the villagers and the consent from the Royal Government of Cambodia," the news release said.

Reported by Maly Leng for RFA's Khmer Service. Translated by Nareth Muong. Written in English by Roseanne Gerin.