Global Meat News| 14 August 2017
Chinese livestock firm taps up Southeast Asia
by Mark Godfrey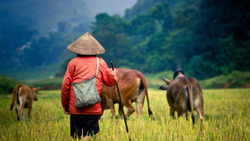 China wants to bring big numbers of cattle from Buma to a new custom-built abattoir
A leading Chinese livestock and meat processing firm wants to tap supply of cattle from south-east Asia, with a cattle quarantine and slaughtering hub planned for the city of Ruili, on the border with Myanmar. An RMB1.8 billion investment will build a slaughtering capacity for 50,000 head of cattle (per year), as well as meat processing, leather and offal processing facilities.
Cattle from Myanmar are more plentiful and cost less – an average RMB8,000 compared to RMB12,000 paid for slaughter-ready Chinese cattle, according to a statement from Dakang. The company has signed an 'Agreement on Ruili Cross Border Quarantine Test Project' with authorities in Ruili and Yunnan province – of which the city is part.
Four Chinese government ministries and agencies have pledged their support, according to Dakang: the Agriculture and Commerce Ministries as well as the General Administration of Customs and the AQSIQ, China's quarantine body.
Based in the central province of Hunan and listed on the Shenzhen stock market, Hunan Dakang International Food & Agriculture Co, Ltd (previously Hunan Dakang Pasture Farming Co Ltd), traditionally focused on feed, live pigs and sheep, but later moved into beef, milk and commodities in response to rising consumer demand.
Ambitious move in Southeast Asia
The firm put itself in the global spotlight in 2016 with a bid to buy giant Australian beef farm S Kidman. That bid was withdrawn after Australian authorities blocked the deal, but earlier this year the firm said it had a five-year plan to acquire dairy and meat assets in Australia, as well as soy production assets in Brazil and hog production facilities in Europe.
In turn, Dakang was majority-owned by the Pengxin conglomerate, controlled by real estate tycoon Jiang Zhaobai – he sold a 55% stake in Dakang last year, but cooperates with the firm on agriculture investments overseas.
Dakang's foray into south-east Asian cattle looks very ambitious, but may make sense given China's ambitions to integrate south-east Asian and south Asian nations into its economy as suppliers of raw materials. Noticeably, labour costs in Myanmar and Vietnam are less than half the average industrial wages paid in China, making food production cheaper.
Ruili is a city in Yunnan province, a far-flung region that has become the strategic centre to China's trade plans, given that it borders Vietnam and Laos to the south and Myanmar to the west. From Myanmar, Chinese exporters can connect to Bangladesh and India. Hence, China is planning motorways, bullet trains and energy pipelines out of Yunnan to south-east and south Asia.
There is already a flow of raw materials out of Myanmar into China, much of it facilitated by a large presence of ethnic-Chinese Kachin paramilitaries and contraband merchants, who cross freely from Myanmar into China and typically carry dual citizenship. As part of its effort to bolster the Kachin authorities in China, in 2010 it granted Ruili the right to operate special economic policies and built a free-trade zone, which means Chinese goods can flow through while hundreds of trucks carry fruit, jade and timber out of Burma into China.
If Dakang's plans work out, cattle will also be coming out of Burma to a slaughterhouse in Ruili. The city has become infamous in recent years as a centre for gambling, with punters from China (where gambling is prohibited) flocking to casinos, brothels and saunas on the Burmese side of the border.