Mother Jones| 4 August 2017
Foreign investors are snapping up US farms
by Amy Thomson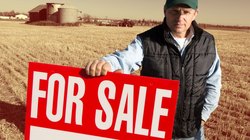 Photo: Shotbydave/Getty
Who owns America's farms? Not always Americans. US farmland is becoming a target for international investors, according to a handful of recent reports. The amount of foreign-owned US farmland has roughly doubled between 2004 and 2014—with Canada, the Netherlands, and Germany owning the most—the Midwest Center for Investigative Reporting uncovered in June. And a New Food Economy report released Monday shows that figure is increasing.
The most recent US Department of Agriculture data, from 2011, revealed international buyers own more than 25 million acres of US farmland, about 2 percent overall. But since the USDA report was published, New Food Economy found that Italian buyers have purchased 102,000 acres, New Zealand has bought around 18,000, and Saudi Arabia and the United Arab Emirates have gone in on more than 15,000 acres.
The report didn't specify what kinds of farms each country bought, though it did note that China seems especially interested in the US hog industry. The country now controls more than 400 farms, 33 food processing plants, and one out of every four hogs in the United States. This is largely due to the 2013 deal when a Chinese company dubbed Shuanghui (now called WH Group Limited) nabbed the largest US pork producer, Smithfield Company. The estimated $4.72 billion sale secured Chinese buyers with more than 100,000 acres of US farmland, among other things. (My colleague Tom Philpott analyzed the deal—and China's cozy relationship with the US pork industry—back in 2013.)
So why are foreign countries buying up American farms? One reason might be that agricultural land is simply a good investment. Here's how a 2014 piece in the Economist explained it:
Farmland has been a great investment over the past 20 years, certainly in America, where annual returns of 12 percent caused some to dub it "gold with a coupon." In America and Britain, where tax incentives have distorted the market, it outperformed most major asset classes over the past decade, and with low volatility to boot. Those going against the grain warn of a land-price bubble. Believers argue that increasing demand and shrinking supply—as well as urbanisation, poor soil management and pressure on water systems that are threats to farmland—mean the investment case is on solid ground.
What's more:
[Farmland] is uncorrelated with paper assets such as stocks and bonds, has proven relatively resistant to inflation, and is less sensitive to economic shocks (people continue to eat even during downturns) and to interest-rate hikes. Moreover, in the aftermath of the financial crisis investors are reassured by assets they can touch and sniff.
The influx of foreign farm owners has drawn strong criticism. Some politicians and rural advocacy groups argue that foreign control of farms is a threat to national security. Sens. Debbie Stabenow (D-Mich.) and Chuck Grassley (R-Iowa) introduced a bill this year—the Food Security is National Security Act of 2017—that aims to keep farmland and agricultural businesses under US ownership. "As we think about the future and the growing global population, it's important to consider who will control the food supply," Grassley said in a statement.
Another potential drawback: As American farms become more desirable, land prices are increasing—which is bad news for American farmers and their communities. Often, when a foreign investor buys up land, the local population loses farming rights, which can lead to people losing their homes, livelihoods, and access to resources like water.
Some states, like Iowa, have outlawed selling farmland to foreign buyers to protect their resources. But Lindsey Shute, director of the National Young Farmers Coalition, warns that states without such laws may soon face a dilemma. The median age of the American farmer is 55, and it is anticipated that in the next five years, about 92,000,000 acres will go up for sale. Shute is concerned that the rising prices will push out farmers, paving the way for investors: "With two-thirds of our nation's farmland set to change hands in the next few decades, we cannot afford to see the price of farmland driven up beyond what a working farmer can compete with."