Global Witness| 28 July 2017
Press Release
Myanmar government backtracking on land law threatens to worsen land conflict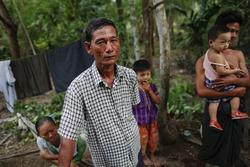 30 percent of Burma's rural population is classified as "landless," according to Asian Development Bank study. Photo:
REUTERS/Damir Sagolj
The Myanmar government must set out a clear vision for land reform before introducing or enacting new laws, Global Witness says. The call comes as Parliament discusses amendments to the Farmland Law* which threaten to further undermine land rights.
The National League for Democracy (NLD) government has failed to keep its promise to end the prolific and violent spate of land seizures that blighted rural life in Myanmar during decades of military rule. This includes failing to adopt the pro-poor National Land Use Policy, which sets out to protect small-holder farmers, after it was passed by the previous Thein Sein government.
Ali Hines of Global Witness said: "The government should adopt the National Land Use Policy and enshrine its principles in any amendment to land laws. Pushing through reforms without a clear vision or broad public consultation risks further complicating current land disputes."
The National Land Use Policy recently came under threat from the Commission for the Assessment of Legal Affairs and Special Issues, a government body chaired by Thura Shwe Mann. Former Chairman of the Union Solidarity and Development Party (USDP), he is thought to be one of Myanmar's most powerful politicians. Last year a Reuters investigation
linked him to unresolved land grabs
.
In a memo sent to Parliament and the President's Office in November 2016, the Commission recommended that a number of key components of the policy be revised or scrapped altogether. These included the protection of ethnic land rights, women's land rights, the establishment of a separate Land Use Council, and an independent arbitration body to deal with land restitution issues.
The government has not yet publically stated whether it will accept these revisions. It is also not yet clear whether the amendments to the Farmland Law – if passed by Parliament – will go to the Commission for approval.