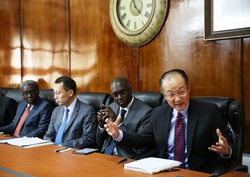 Xinhua | 27 July 2017
World Bank offers 10 mln USD for land policy project in Sierra Leone
FREETOWN, July 26 (Xinhua) -- The World Bank Country Director for Sierra Leone, Parminder Brar Wednesday pledged 10 million U.S. dollars to support the implementation of the new land policy project in Sierra Leone.

Brar made the above disclosure at the commencement of a two-day National Land Conference organized at the Miatta Conference Center in Freetown with the theme "The way forward for land reform in Sierra Leone."

He said the World Bank is concerned with land issues, which he said was very much central to the social and economic well-being of the country.

"Land issues in Sierra Leone are extremely complex as it comprises a free hold and customary system," Brar said.

He continued that the bank was concerned about what has been going on in the Land Management System, reiterating that land is central to development and "we are ready to support and work with the government."

Brar said in May 2017, the World Bank had a team of consultants, who did an assessment of large scale agricultural land acquisition and that the report was now ready with several recommendations.

Also speaking was the United Nations Development Program (UNDP) Country Director, Samuel Gbaydee Doe, who expressed delight to be in attendance at the conference to deliberate and define operational framework for the national policy on land.

"First, because of the fast growing population. By 2030, we would be at least 8.5 billion on earth. Sierra Leone for example has grown from 5 million to 7 million just in the last few decades. As the population increases, there is increased demand for land," he said.

He stated that Sierra Leone was not yet at the critical threshold of scarcity as it has not yet fully maximize the potential of its land, which he said makes land governance urgent and imperative.

While making the keynote address, Deputy Minister of Lands, Country Planning and the Environment, Mamoud Tarawally, expressed optimism that the National Land Policy will succeed in Sierra Leone, adding that the government of Sierra Leone through the Agenda for Prosperity will support the full implementation of the policy.