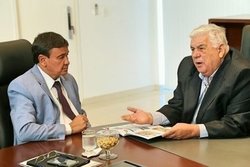 Piaui Governor Wellington Dias meeting on June 28, 2017, with the managing partner of CBL Alimentos - Betânia, Luiz Prata Girão to
discuss the allocation of lands
in the Brazilian state of between 600-1000 hectares for dairy production. Three weeks later, Arlon Group, which is backed by Rabobank and Continental Grains, announced it was acquiring a minority stake in the company.
Arlon Group | 18 July 2017
Arlon Group Invests in CBL Alimentos SA
SÃO PAULO, July 18, 2017 /PRNewswire/ -- Arlon Group (Arlon), a food and agriculture investment firm, announced that it has acquired a minority stake in CBL Alimentos SA (Betânia), based in Fortaleza, Ceará, Brazil. Betânia is the largest dairy company in the Northeast Region of Brazil, producing fluid milk, dairy drinks and yogurt, among other dairy products. As part of the investment, Bruno Martins Silva has joined the Company's Board of Directors as Arlon's representative.
Bruno Girão, Betânia's CEO and majority shareholder, will continue to lead the business. Commenting on Arlon, he said, "Arlon sets itself apart from other private equity firms. I am grateful to have a trusted partnership with Bruno Silva and the Arlon team and truly feel like I have gained close advisors that share the same values and will greatly help Betânia in this new phase." He further added, "I appreciate the breadth and depth of Arlon's excellent network in the food and agriculture industries in Brazil and globally. Their relationships and resources in retail, distribution and milk production will consolidate Betânia as the leading brand in the Northeast Region."
Speaking on behalf of Arlon, Bruno Silva said, "Betânia is well positioned in the growing milk industry as the leading regional dairy company. We are very excited to partner with Bruno Girão, who built and led the impressive growth and professionalization of the Company. Betânia has developed a value-added portfolio, good brand recognition and a strong supply chain. Bruno is a talented CEO who has significant experience in the industry, besides being a great partner. We are looking forward to supporting Bruno and the Company as it builds on its success."
"I am very pleased that Arlon is partnering with Bruno Girão and Betânia. Betânia, with its growth and success, promotes dairy farming in the Northeast Region, and it is key for both social and economic development in the region", said Roberto Rodrigues, a former Agriculture Minister of Brazil and a member of the Arlon Latin America Advisory Board.
About Arlon Group
Arlon Group is a food and agriculture investment firm with a global network that invests in middle-market businesses across the entire food supply chain in the Americas. Arlon's team brings extensive investment expertise and deep, local industry contacts as they seek to partner with growth-oriented businesses in the food and agriculture sectors. Arlon's investment professionals work collaboratively across geographies, and Arlon's portfolio companies benefit from the team's shared knowledge of regional and global trends. Arlon's investment focus comes from its founding investor, Continental Grain Company, a 200-year-old leader in the food and agriculture space. Rabobank, a leading bank to the global food, beverage and agribusiness industries, is another key Arlon investor. In Latin America, Arlon also works in partnership with VR Investments, a family owned Brazilian investment company with broad experience in Brazilian businesses. Arlon Group has $1.5 billion in assets under management and is headquartered in New York with an office in Sao Paulo, Brazil. For more information, visit www.arlongroup.com.

Note: VR Investments is a company owned by the family of Brazilian billionaire Abram Szajman