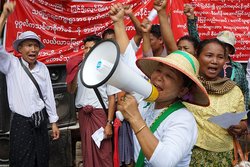 A female demonstrator shouts into a megaphone during the protest in Mandalay, in Central Myanmar on July 12, 2017. (Photo: Kway Zay Win/AFP)
AFP | 13 July 2017
Myanmar farmers stage week-long protest over land grabs
Hundreds of Myanmar farmers entered a seventh day of protest over land grabs on Wednesday, demanding the government return seized fields and protect them from a surge in prosecutions over property disputes.
Land ownership is one of the most contentious issues in formerly junta-run Myanmar, where the army is accused of rampantly confiscating land during its 50-year rule.
Anger over land-grabs was a key factor that helped Aung San SuuKyi's pro-democracy party sweep the first free elections in generations in 2015.
But little has been done to address farmers' grievances since they took office last year, while nearly 500 villagers in central Mandalay region alone are being prosecuted in cases related to land-grabbing.
For the past week hundreds of farmers have been gathered in Mandalay city to protest the lawsuits.
At the foot of Mandalay hill on Wednesday, some 300 farmers chanted and waved signs next to a ramshackle makeshift camp where they have been living for the past seven days.
"We chose the new government but they don't do anything to defend the farmers," protest leader Mg Soe told AFP.
"We know it's hard for the government to solve all the land problems which festered for years when the junta was in power. But now, even more farmers are facing lawsuits under the new government."
Most land seizures date from the 1990s and early 2000s, when activists say military men and their cronies displaced thousands of villagers and small-holder farmers.
Few villagers have documents to prove they have any rights to the land they farm, even if they have been tilling the soil for generations.
"Currently over 400 farmers in the region are being sued," said Ko Lin, the chair of the Mandalay regional farmers association.
"The regional government should make this a priority."
A Mandalay official declined to comment when contacted by AFP.