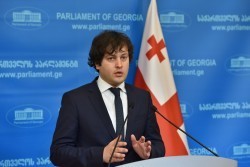 Georgia's Parliamentary Chairman Irakli Kobakhidze
Civil Georgia | 9 June 2017
Georgia to ban agriculture land sales to foreigners
Parliamentary Chairman Irakli Kobakhidze announced on June 8 that the Cabinet of Ministers and the parliamentary majority struck a deal on introducing a new provision in the constitution prohibiting agricultural land sales to foreign citizens, citing "strategic interests of Georgian citizens and the country."
According to Kobakhidze, the ruling party will also initiate a separate bill for the same purpose before the constitution comes into force.
"When this decision was being made, all factors were taken into account, including the existing and potential market value of the land, share of land sales in foreign investments and in economic growth, the current practice of agricultural land purchase and most importantly, our national interests," Kobakhidze said.
The Parliamentary Chairman added that two interests were weighed – "the strategic interest that the Georgian land stays in the hands of the Georgian state and its citizens, and the economic interest." "We conducted an in-depth analysis of the influence of this regulation on both factors and came to a conclusion to prioritize the first factor."
Irakli Kobakhidze added that the nationwide public discussions played an important role in making the decision. "We saw that the Georgian society has particularly emotional attitudes towards the issue and of course, this served as one the most important drivers for the decision."
Speaking at the Government session on June 1, Prime Minister Giorgi Kvirikashvili confirmed the decision, saying the Government would appeal to the Constitutional Reform Commission with the request to introduce a provision in the draft constitution "restricting the sale of agricultural land to individuals not holding the Georgian citizenship."
In the words of Kvirikashvili, the text will be formulated accordingly: "Agricultural land plot, as a resource of special importannce, can be owned by a citizen of Georgia, union of citizens of Georgia, state and self-governing entity."
"I believe that the [proposed] formulation directly corresponds to the demands of vast majority of our citizens and I think this is the decision that the ruling team has to take," Kvirikashvili noted.
Opposition Reactions
Two parliamentary opposition parties – the United National Movement and the Movement for Liberty-European Georgia – criticized the government's move as a populist step ahead of the October municipal elections.
UNM's Akaki Minashvili said that the ruling party should be concentrated on job creation, agricultural development and investment. "Any regulation that the Government speaks of today will prevent this and will further affect our citizens living in poverty. This regulation means more problems for our citizens and fewer opportunities to boost their income," Minashvili stated.
The Movement for Freedom - European Georgia assessed the decision as "yet another populist move of the Government." "Literally, no one will be able to put the Georgian land on his back and take it away," said Giorgi Tugushi of the European Georgia.