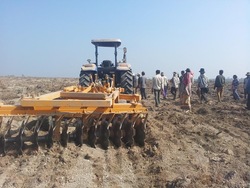 GRAIN et al. | 8 June 2017

Cambodia: communities in protracted struggle against Chinese sugar companies' land grab

A new joint report from Community Network in Action (CNA), Ponlok Khmer, GRAIN, Cambodia Indigenous Youth Association (CIYA), and the Asia Indigenous Peoples Pact (AIPP) exposes the devastating consequences of land grabs for indigenous communities in Preah Vihear province, northern Cambodia.
The report reveals how Chinese sugarcane companies, attracted by the Cambodian government to invest in local agro-industry, have been violating the fundamental rights of communities and destroying livelihoods and ecosystems over the past six years. Five subsidiaries of a single Chinese state-owned company, Hengfu Group Sugar Industry, were granted economic land concessions covering more than 40,000 hectares in 2011.
Over the years, affected communities in Preah Vihear have engaged in sustained resistance to the destruction of their livelihoods and culture, and exposed land grabs for what they really are: violent, devastating, and unlawful. They have called for the concessions to be cancelled and the land returned to them. So far, they have managed to slow but not stop the onslaught from the concessions. But they have not given up.
Download the report in English [2,7 MB] or in Khmer [1,6 MB]
Read the media release in English